Best Stovetop Pressure Cooker
Last update: Aug 2016
| | |
| --- | --- |
| The Winner | |




Best All-Around

Works as advertised---quiet, safe, simple, beautiful and reliable, this is a truly the Mercedes Benz of pressure cooker.

Swiss-made, ultra-sturdy, straightforward and reliable mechanisms and finest materials, Kuhn Rikon Duromatic can make you rely on. By having 18/10 stainless steel with aluminum core base, it offers even heat distribution and excellent for searing before pressuring, as well as quicker cooking time. It comes with the 2 safety vents with spring-loaded pressure release for having a peace of mind. And, despite of stovetop type, it comes close to set-and-forget pot, fool-proof using. Full Review ›



| | |
| --- | --- |
| Runner's Up | |




Best Performance

This handsome pot is outstandingly good for quiet and easy to operate, also can really reach 15 PSI (in expert test).

Fissler Vitaquick is truly a rival campaign of Kuhn Rikon. For quality German-made craft, reliable safety, decent cooking result and easy to operate, it deserves for being called BMW of pressure cooker. We dare to say: The Vitaquick is a most heat performance brown and silent model in the market. Also, it earned highly praise as a winner of Cook's Illustrated. Full Review ›



| | |
| --- | --- |
| Runner's Up | |




Best Budget

Less budget, no problem. This pot is a good combination of cooking performance and price, admired by both experts and users.

If paying for those winners is such a pain, why don't consider Fagor Duo for a half price? For beginners and budget savers, this pressure cooker provides admirably good cooking ability, both searing and pressurizing jobs. For solid stainless steel construction, pleasing performance and easy to handle, the Fagor Duo is a remarkably economical alternative. Full Review ›






Worth it?
Pressure cookers are really not kitchen essentials but become more and more popular today. The main reason is they bring fork-tender meats, creamy beans or prepares tasty soup in much less of cooking traditional cooking time. For example, an ordinary 3-hour roast can be done in 30 minutes.

Why stovetop pressure cooker? There's tons of rumors about exploding pot. However, new versions of pressure cooker by far improve from your Grandma's; they come with easier and safer to use.

In fact, many chefs prefer stovetop pressure cookers than electric ones, Cook's Illustrated, also. The electric models provide ease and convenience; you can just set it and walk away. In the other hand, stovetop versions need more attention but provide more accuracy in cooking with its manual regulation of heat. Moreover, they are better long-run investments since they're easier to maintenance and can be used longer.


Stovetop Pressure Cooker
Stovetop pressure cooker is a truly reliable and cost-efficient tool. This cooker needs more skill but provides fast and superb cooking results and more durability in the long-run.
Commonly 2 pressure settings: High Pressure (13-15 psi) and Low Pressure (6-8 psi).
Manual regulate the heat. Need some experience to work well.
Noticeably rapid cooking time.
Less pressure release time.
3 pressure release methods: quick, normal (by open valve) and natural (do nothing).
More suitable for searing/browning. Some models have an aluminum core, which enhance evenly and faster cooking.
Very durable. Main parts are made of stainless steel or aluminum.
Easy to clean, maintenance, repair and find replacement parts. As having simpler assembly, they tend not to break easily.
Have longer warranty. Many models carry 10-year guarantee.
Various sizes and shapes available, from 2 - 8 quarts for regular use, or more than 10 quarts for canning.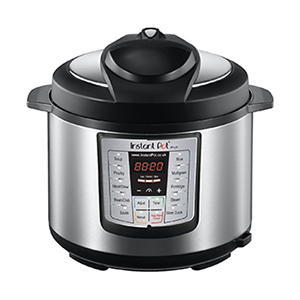 Electric Pressure Cooker
The unbeatable point of electric pressure cooker is
set-it-and-forget-it
. No need to watch or know precise time of cooking, even a beginner can successfully make delicious recipes.
Maximum pressure varies in each models, from 6 to 13 psi (hardly found reaching 15psi).
Completely automate regulate the heat. Most newer models have micro-computer to control cooking programs, pressurizing and thermostat.
Moderately slower time for both cooking and pressure release.
2 pressure release methods: normal and natural.
Many models come with multi functions, such as slow cooker or even yogurt maker, as well as timer.
Some may have sauté/Brown function, still not as good as stovetop cooker.
Durability is on the standard of the electronics lifetime. Also, most models have nonstick-coated inserts, which are less durable and need to baby.
Standard appliance warranty (1 year).
Limited size, 5-6 quarts.
What To Look For
Whether you want to speed up your meal, find super value products, try advanced techniques or else that make you finally stumble upon with stovetop pressure cookers, these are things you need to check before buying.

(1) Safety Features. Today's pressures cookers become safer than your Granny's as they have more safety systems. According to Laura Pazzaglia from Hip Pressure Cooking, whether stovetop or electric versions, the good cookers should have at least these features: locking lid, primary and secondary pressure release, Lid lip vent and auto shut-off. Also, some premium models come with extra safety features.

(2) Regulators. Choose spring valve and non-venting cookers, the newest pressure regulator. This type is more expensive than old-style weight valve type, to prevent noises from venting steam and jiggle metal weight bouncing.

(3) Design. Like Cook's Illustrated, we prefer big, wide and straight side. Wider with fuller thick base that has inductive material (like aluminum) disc inside yields noticeably better result, easier and efficient browning and evenly cooking. Also, look for straight-sided pots for better heat performance and easier cleanup.

(4) Material. We recommend stainless steel over aluminum pots as more durable and non-reactive. Moreover, aluminum cookers tend to easily stain and warp.

(5) Size. Size can be tricky because only 2 to 2/3 of capacity can be cook. So, some experts, like Laura Pazzaglia, suggested using 1 quart (or liter) per person, 6 quarts for maximum 6 people, for example. She also recommended buying 6- to 8-quart size, even for singles, as suiting for most cookbooks or online recipes. For roughly estimation, we suggest:

Under 5 quarts: singles, couples or small family under 4 persons,
5 -7 quarts: 3 - 5 persons (standard size),
8 - 10 quarts: large families more than 6 persons,
10 quarts: large group, more than 15 persons. These sizes are mostly made for canning or reserving food than regular uses.
And The Winner is...
Whether you are pros or newbies, Kuhn Rikon Duromatic will absolutely be your favorite. This cooker stands out as a perfect combination of performance, reliability and ease of use.




Best All-Around:

Kuhn Rikon Duromatic Pressure Cooker




| | |
| --- | --- |
| The Winner | |

Performance
10

Quality
10

Ease of Use
10

Appearance
10

Value
9

OVERALL RATING


Kuhn Rikon Duromatic was praised from The NY Times as "The Mercedes-Benz of pressure cookers", and we totally approve this for having everything we should expect from a superb product.

The safety system is outstanding. It has unfussy, practical and more safety features than normal acts. Say, it comes with automatic locking lid, primary and secondary spring-vale safety valve for release excessive pressure when reaching around 17 psi, self-locking gasket and safety vents. Moreover, due to spring-loaded valve regulator, it releases very little steam and noise during cooking.

The Duromatic earns our top marks from cooking ability. It's made of thick 18/10 stainless steel with aluminum core in the bottom base for boosting fast and even heat distribution. This allows beautiful browning and evenly cooking. The unvented feature helps reserve flavor and aroma inside the pot. Also, it's the most energy efficient as precisely responds to temperature changing[1].

The durability also wins, ultra-sturdy and flawless made. It has no flimsy pieces, even decoration pieces. It's easy to clean but can't be dishwashered.

We rather prefer top model than original one as overall friendlier to operate. Still, this is up to your preference as these two have the same mechanism.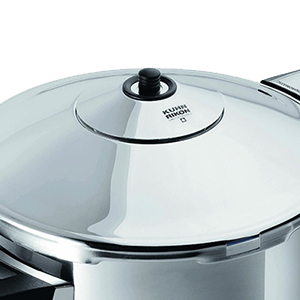 Original (Inox) Model
Need to press and hold the valve by hand to release pressure.
Harder to see red line.
More sleek-looking.
Lid is slightly sturdier and easier to clean as made of all metal.
More size available[2].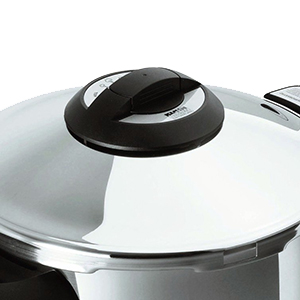 Top Model
Turn the knob and leave it release pressure. No risking to hot blast your hand or face.
Easier to see red line.
Feel safer to use, particularly for beginners.
Slightly pricier.

Overall, the Kuhn Rikon Duromatic deserves for Mercedes Benz of pressure cooker. It works everything as a decent cookware can---consistency working, precise all-metal valve, extra more safety mechanism, quick and quiet working, fool-proof using and good-looking, with 10-year warranty. So, this straightforward Swiss-made cookware was consistently picked as the all-time best stovetop pressure cooker.

The Runner's Up
All we can say is that the Cuisinart Cook Central is one that should be worth the expectation when spending more than $100 on a slow cooker.




Best Performance:

Fissler Vitaquick Pressure Cooker




| | |
| --- | --- |
| Runner's Up | |

Performance
10

Quality
9

Ease of Use
9

Appearance
10

Value
9

OVERALL RATING


We can say: if Kuhn Rikon is Mercedes Benz, Fissler should be BMW. That's why this Fissler Vitaquick earned top honor from many professional tests, includes Consumer Report and Cook's Illustrated.

Vitaquick is well-craft and wisely design for boosting heat performance. The overall construction is solidly made like other high-end cookware; this German-made cooker is made of 18/10 heavy-gauge stainless steel with thick (6mm) aluminum core fully inside the base to enhance heat conductivity and steady cooking. According to Cook's Illustrated, this cooker only one in their test[3] that can actually reach 15 psi.

What impressed us the most is it has ideal shape for searing and browning---low, wide-shape, straight conical sides and thick base. This efficiently improves of cooking, searing and cleaning. Also, it completely allows for dishwashing.

The safety features are in quality standard, such as spring-loaded Euromatic valve, self-locking handle. The locking lid is nicely designed and easy to use. If the lid is closed properly, you'll notice a click and color display switching from red to green color. Another impression, this cooker works very quiet, no fuzzy noise, steam or smell.

Still, except price that deserves quality craft, there're some issues that keep Vitaquick from reigning our top rank. We've found some users complain about defective valves and leak handles. Moreover, the consumer service seems unfriendly for some who buying from some sellers. To avoid this, lookup authorized retailers from the manufacturer before buying.




Best Budget:

Fagor Duo Stainless Steel Pressure Cooker




| | |
| --- | --- |
| Runner's Up | |

Performance
8

Quality
9

Ease of Use
10

Appearance
9

Value
10

OVERALL RATING


If you're looking for a practical stovetop pressure cooker in more affordable price, the Fagor Duo is a remarkable alternative. In fact, it does great far from the price---solid stainless steel pot, nice cooking performance and user-friendly functions.

The construction feels solid. The pot is made of 18/10 stainless steel with a with aluminum inside base for boosting heat distribution. This noticeably makes impressive cooking performance. We love the thick wide bottom as yielding better searing and browning. Also, it's well compatible with many stoves, includes induction. That's why Cook's Illustrated praised for Fagor Duo: "Performing much like our winner[4] at a fraction of the price...".

The ease of use and safety features are impressive. The spring-valve mechanism is straightforward and easy to manage. While safety features are acceptably good with 2-level pressure release valves and secure locking lid (handle) when under pressure. These qualifications are likely to be found in more expensive models than in its price range. Also, the cooking pot allows for dishwashered and carries 10-years warranty.

Overall, the Fagor Duo is definitely not a no-brainer choice. It's a great mixture of decent cooking ability, ease of use and budget. Though it was found some issues about durability and quality of plastic parts, which certainly can't be compared with the two higher-end picks, this pressure cooker is still unbeatable for the price.



Market Reviews
The prices mentioned are estimated retail prices at exact period and are subject to change. We list suggested sources for recommended products as a convenience to our readers but do not endorse specific retailers.





In this review, we eyed only on non-vent stovetop pressure cookers that have spring-valve regulation as they're safer, quieter, more precise and easier to use. As the result, some popular models that have old-style jiggle top, such as Presto or Prestige, were cut off.

We also skipped reviewing models that have huge sizes of larger than 10 quarts because they tend to use for canning, not regular cooking.




Aside from Kuhn Rikon and Fissler, each costs around 200 bucks, WMF Perfect Plus ($200 for 6.5 quarts) is another remarkable pressure cooker in high-end level. As famous for premium stainless steel cookware, this German-made cooker has hefty construction with noticeably thick aluminum disc inside base, which makes pleasing searing.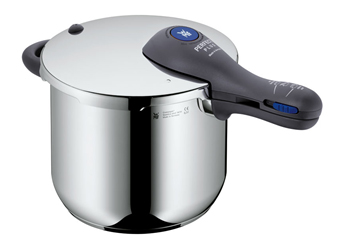 Still, while the good things are crafted, with good safety features, it's quite hard to manage true pressure level. Also, it doesn't properly reach 14.5 psi (the European standard), just close. Moreover, when to releases pressure, it makes pretty loud whistle and moist.

For mid-price stovetop pressure cookers, Fagor is a big player. Apart from the Duo, Fagor Futuro ($120 for 6 quarts) is really well-designed. It has wide and belly-shaped base and very secure safety features like high-end models, as well as works pleasantly quiet. However, the performance of the two isn't better than the Duo. Still, if spending more bucks doesn't bother, the Futuro is good to go.

Fagor Innova ($125 for 6 quarts), the newest launch model, is a good alternative of Futora, which seems to discontinue. It has sturdy craft and satisfied safety features with self-locking lid. Like Futuro, it comes with automatic pressure release setting when finishing, which makes much easier and safer.

T-fal is a new player for this market but does pretty good job. T-fal P25107 Ultimate ($49 for 6.3 quarts) is good for newbies or colleges. For the price, it has nice solid 18/10 stainless steel pot with aluminum disc inside base so that it's practical for cooking. This heavy pot also has nice safety features and dishwasher-safe.

While T-fal P45009 Clipso ($75 for 6.3 quarts) comes with canner look but still has spring-valve regulator for daily duties, not for canning. it has solid stainless steel with aluminum-inside base for better heat performance. However, the pot is so heavy and hard to clean from food sticks. Besides, personally we don't like the tall and narrow shape because of hard to sear and clean unless for make soup or broth.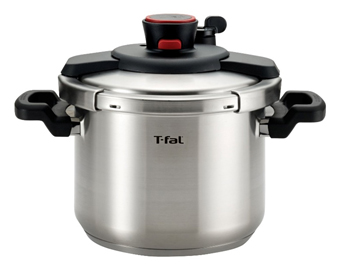 A thing that we're quite skeptical: though T-fal pressure cooker has a thick construction with encapsulated bases than Fagor, the performance seems to be inferior, less steady and harder to control pressure. However, T-fal feels more durable and less inexpensive than Fagor. So, it's still nice choice for beginners and budget savers.




---
Footnotes
| | |
| --- | --- |
| (1) | Laura Pazzaglia from Hip Pressure Cooker, a pressure cooker expert, made individual product test. She claimed that "The Duromotic is the most energy efficient pressure cooker I've tested so far." In the test, it will maintain pressure only when a precise amount of heat is applied. So, you need a few tryouts for finding suitable temperature for each type of recipes. |
| (2) | Product available in the time of reviewing. |
| (3) | From Cook's Illustrated Reviews on pressure cooker (Issue No.120 - February 2013). The institute tested 8 stovetop pressure cookers, includes Kuhn Rikon Duromatic, Fissler Vitaquick, WMF and Fagor Duo. The Fissler and Fagor were picked as 'Highly Recommended' and 'Best Buy', while Kuhn Rikon was 'Recommended with Reservations' for having narrower base, which might make it loss temperature and pressure. They also cited that Duromatic has high evaporation loss and doesn't reach 15 psi. |
| (4) | The winner is Fissler Vitaquick. |