Finding things is sometimes messy. From years of cooking passion, we decided to create Allkitchenfind for being helpful shopping lists of things in the kitchen.

Know

what we do

,

our rating system

, and

FAQ

.




Categories

Cookware
Cutlery & Knife
Countertop Cookers
Food Preparations
Kitchen Appliances
Best Stainless Steel Cookware
Last update: June 2016

Every chef knows, having good stainless steel cookware is no-regret investment, as bringing good cooking experience and living life long in your kitchen. After deliberately reviewing, we unanimously voted for Cuisinart Multi-Clad Pro the winner.



| | |
| --- | --- |
| The Winner | |


Best All-Around


Cuisinart Multi-Clad Pro

As fully-clad, the Multi-Clad Pro yields evenly cooking, sturdiness and well-worth the money. This outstandingly get overall best scores.


Like our benchmark quality stainless steel cookware, the All-Clad, Cuisinart Multi-Clad Pro has solid 18/10 fully-clad stainless steel with aluminum core inside for enhancing heat conductivity and evenly cooking, whereas offers superior user-friendly design by having good grips and rolled rims for no-messy poring. Overall, Cuisinart does great job as offering primarily similar features of All-Clad in 3-times cheaper, deserving for our all-around winner. Full Review ›



| | |
| --- | --- |
| Runner's Up | |


Huge Upgrade


All-Clad d5 Stainless Steel

This is an optimum quality of All-Clad, as well as the market in this time. We totally recommended for upgrading cooking experiences.


'Need superb cookware? So, go All-Clad.'–––This is a common rumor, as well as real story among chefs. Yet, even better than the standard 3-ply line, the All-Clad d5 comes with 5-clad layers of heavy-gauge stainless steel and aluminum that allows remarkably beautiful searing and browning results, and also 20% better heat efficient than standard line. With exceptional heat conductivity, heavy-duty construction, exquisite craft and lifetime guarantee, it's such an heirloom cookware that worth the hype. Full Review ›



| | |
| --- | --- |
| Runner's Up | |


Good Bargain


Cooks Standard Multi-Ply Clad

Good recommended if you want impressive performance and sturdy pots and pans, but don't want to break the bank.


If those two winners still bleed your budget, Cooks Standard Multi-Ply Clad is good optional. At around $200 for 10-piece set, it provides nice tri-ply construction, it makes cooking performance goes far beyond the price tag–––not good as the first two winner but very impressively practical for daily recipes. The Cooks Standard got a hair better scores than renowned Tramontina Tri-Ply Clad for more user-friendly design and slightly less expensive, as the performance is relatively the same. Full Review ›


Contents
---
Worth it?
We bet, you should have heard that "Having nice stainless steel cookware means a worthwhile investment in your kitchen" ...and we insist this. Unlike nonstick and most types of cookware, stainless steel pots and pans will last for lifelong and cook almost anything, as well as improve your cooking experiences.

"So, should I buy a whole set?" It depends. Ideally, buying a la carte or buying what you want, is the best choice. Also, this suits for some who aren't frequent cook or living a couple, which having a nice skillet and two sauce pans is enough for daily uses. However, it's more expensive than buying whole set, which might has some unwanted pieces, instead. To compromise the issues, we recommend buying a set that containing useful pieces.

According to Cook's Illustrated, the recommended pieces includes:

2-quart covered saucepans,
4-quart covered saucepans,
6- or 7-quart enameled cast-iron Dutch oven,
10" nonstick skillet,
12" traditional skillet (or fry pan),
A large stockpot.
Anyway, some might need extra pieces. Kenji Lopez-Alt from Serious Eats, for example, also suggested a 14" wok as it's perfect for indoor smoking, braising, deep frying and steaming. This is a rough guides, the selection is up to your preference and cooking habit, still.

Remember, bigger set doesn't always mean better. Manufacturers count anything in the set, includes lids, spatulas, spoon or even recipe books. Beware this before choosing.




---
What To Look For
1) Look for good material. For any cookware, heat conductivity does matter. When talking about stainless steel cookware, All-Clad is spotlight for fully-clad cookware. Generally, stainless steel cookware can be divided into 3 types by heat efficiency, from high to low performance:

2) Sturdy craft and construction. Look for heavy-gauge 18/10 stainless steel and thick body for ensuring the quality and toughness. For a peace in mind, we recommend the pans that are heat-proof at least 450°F with stainless steel handles to make universal fit for most cooking methods. All lids should fit firmly to keep in moisture and have heat resistance at least 350°F and we prefer stainless steel to glass.

3) Good ergonomic design. When pick up, they should feel balance in hand without pull overly to one side. The handles should be easy to grip and feel cool when cooking, as well as shouldn't be too close to the pot for preventing burns. Moreover, they should be heavy enough to hold firmly on stovetop and oven without warping or sliding around. Don't pick too heavy pot unless you'll have to find lighter ones so sooner. Also, the rims should has round-shaped and smooth edges for making easy pouring and safe from cutting your fingers.

4) Practical for your real habit. What kind of recipes do you often cook? How much will you be cook? How many do you cook for? Ask yourself these questions before picking cookware to decide what you really need. This will help prevent overbuy some pieces that waste your money and cabinet space.

5) Work with your cooktop. Some pans works nicely on specific burners, mostly gas stove. Many stainless steel pans don't work well with induction cooktop that need magnetic materials, such as cast iron and magnetic 18/0 stainless steel in the bottom. Typically, flat-bottomed cookware are recommended so as to flexibly work with many cooktops than round shape.




---
And The Winner is...
All-around, the Cuisinart Multi-Clad Pro is our pick from having everything great features as a stainless steel cookware set should be, in very beatable price. Say, It has All-Clad features but not at All-Clad price.


Best All-Around: Cuisinart Multi-Clad Pro


| | |
| --- | --- |
| The Winner | |

Performance
9
Quality
9
Ease of Use
10
Appearance
10
Value
10
OVERALL RATING
9.6/10


Worth all-around.

The Cuisinart Multi-Clad Pro impressively serves all-purposes as combining main features that All-Clad has, with less than a half of All-Clad Price.

The Cuisinart Multi-Clad Pro (MCP) provide fully clad, sturdy 18/10 stainless steel with a thick aluminum core. This makes it almost comparable to All-Clad standard tri-ply line, while needs less than a half of All-Clad price. An all-useful 12-piece set is sold for under $250[2] ---reasonably best choice for us all.

Excellent performance for home cooks. All-Clad, our benchmark, is initially made for restaurants and chefs. So, it does superior for super-fast and evenly cooking, which easily yields nearly perfect cooking results. But, do we need that superb restaurant performance for daily habit? It's great but not necessarily so.

While the Multi-Clad Pro impressively serves all-purposes for home uses. It works well with most stovetops, includes induction, as well as oven- and broiler-safe up to 550°F. From expert tests, it worked impressively---didn't reach All-Clad ability but not far behind[3], and better than many pricier and bigger brands. In fact, we've found that many home cooks can't even tell the difference between them.

Repute for ease of uses. We unanimously agreed that the Multi-Clad Pro hits big scores on decent ergonomic design over many big rivals, even All-Clad. As having flared rolled rims, it makes breezy pouring without spills. Also, the handles are more comfort to hold and friendly for small hands.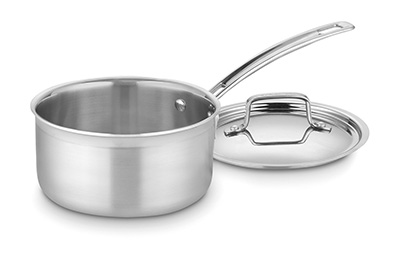 The Multi-Clad Pro has flared rolled rims, which makes good for pouring without spill out. This feature is definitely useful for saucepans.

These features are good for saucepans and stockpots and make 4-quart saucepan being picked by Cook's Illustrated as the Good Buy product.

Moreover, the shape is relatively more user-friendly. Multi-Clad Pro has relatively wide and open shape stockpot. This make easy for making stews and soups by browning meats and sautéing vegetables before stewing, which usually does in home style recipes. Also, the skillet has straighter and higher sides, which help easy prevent ingredients bouncing off. While the extended helper handles found in big pans, such as 12" skillet are very helpful.




---
The Runner's Up
If you need not-just-good-but-great cooking experience, most experts should say "You can't go wrong with All-Clad" at any rate. We highly recommend All-Clad d5 stainless steel line for real stepping up.


Huge Upgrade: All-Clad d5 Stainless Steel


| | |
| --- | --- |
| Runner's Up | |

Performance
10
Quality
10
Ease of Use
9
Appearance
10
Value
8
OVERALL RATING
9.4/10


Real heat-booster upgrade. After first launching fully-clad cookware in 1971, All-Clad has been admired for the finest quality of stainless steel cookware. The All-Clad original tri-ply is crafted of 18/10 (304 grade) stainless steel with thick aluminum layer inside. This yields ideal performance for every tasks, even for restaurant duties---noticeably fast and even heat with very least hot spots. Unsurprisingly, it's a most mention as 'best product' out there, includes Cook's Illustrated, Good Housekeeping and many reputed chefs. And, the d5 is even better.

The d5 offers 5-ply as having more layers of aluminum and durable heat-diffusing stainless steel for extra strength and good cooking ability.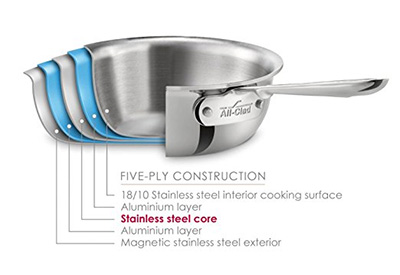 The d5 features with more layers of aluminum and stainless for boosting cooking quality.

For the reason, it brings optimal results even boiling water, and especially great for browning and searing meats on every burners and optimized for induction. Say, the d5 reaches beyond-perfect ceiling for cooking ability.

More comfortable design. Comparing to standard line, the d5 improves much on better ergonomic design, which is a common blame of All-Clad. It comes with more comfort handles and flared rims for easier pouring. These upgrading are only found in the d5 and higher series, such as Copper Core or d7. Honestly, these earn plentiful admiration, but still can't reach of Cuisinart's user-friendly design. However, combined with extremely sturdy construction, refined USA-made[4] handcraft with lifetime warrantee, it received good scores on design and construction.

Easy to clean. The easy cleaning is a common feature of All-Clad because superior heat performance isn't only good for cooking but also cleaning. By having less hot spots and food sticks, it provides less burnt spots. This makes impressive cleaning and keeping shiny, with no (or very less) discoloration.

Splurge worthy? If you plan to use quality cookware lifetime, an extra $50 per piece are definitely worth. In any case, you might step aside to the classic 3-ply for less features and 15% cheaper.


Good Bargain: Cooks Standard Multi-Ply Clad


| | |
| --- | --- |
| Runner's Up | |

Performance
8
Quality
8
Ease of Use
9
Appearance
9
Value
10
OVERALL RATING
8.8/10


For inexpensive options, we kept our eyes on fully-clad feature priced under $200 for a standard 10-piece set. The outstanding contenders are Tramontina Tri-Ply Clad ($199) and Cooks Standard Multi-Ply Clad ($179). And, we can tell you that the winner won by inches.

The cooking quality are both nice. Tramontina, as a former release, was brought to compare with All-Clad tri-ply and praised as a budget alternative by Cook's Illustrated. From TheSweetHome testimonials[4], the performance came across standard line but got some distances to All-Clad or even Cuisinart Multi-Clad Pro. This result test was consistent with SeriousEats[5]. After doing heat-controlled experiments, we found no significantly different between Tramontina and Cooks Standard. Both performed well on gas stoves and slightly worse on electric and induction burner.

The construction are both solid. Both are solidly made of 18/10 tri-ply with aluminum core, and oven-safe around 500°F. The thickness of pots are nearly the same, which pretty good but not as thick as to All-Clad and Cuisinart, and a bit heavier.

Tramontina has more flared and flat rims. However, the performance is still in comparable with Cooks Standard.

Still, the two feel solid and not warp easily.

Cooks Standard design is more practical. Perhaps, design is the noticeably different between them, and makes Cooks Standard more preferable. After remodeled in 2014, Tramontina skillets have smaller cooking surfaces and too flared rims. While Cooks Standard has more straight and curved rims, which make no-messy searing. Moreover, Cooks standard provides more comfortable and cooler from v-shaped handles.

In a nutshell, Both Cooks standard and Tramontina are steals. They're really nice budget alternatives. Not as consistent performer as All-Clad or Cuisinart, this two runners serves impressive results for daily cooks and startups in very affordable price. We finally picked the Cooks standard as best value products, mainly from better in ease of use.




---
Market Reviews
Update: June 2016

The prices mentioned are estimated retail prices at exact period and are subject to change. We list suggested sources for recommended products as a convenience to our readers but do not endorse specific retailers.


There's tons of players in stainless steel cookware market. So, our review eyes on products that have 18/10 fully-clad feature, as the finest quality available.

Start with other top-notch series of All-Clad, such as Copper Core ($1,399 for 10-piece set) and d7 ($799 for 7-piece set). They reflect effectively good performance, but even costly than d5. Anyway, if the fetal price isn't issue, they're no-regret. But, we don't recommend Master Chef2 (MC2) for not markedly better than standard Tri-ply and incompatible with induction.

The DeMeyere, likes some European brands, such as Maulviel and Fizzler, truly positions in high-end quality and outstandingly gorgeous design. No suspicion on performance and craft, but they requires such an astronomical price, which may not worth the hype.

The Cuisinart French Classic ($359 for 10-piece set) has the same qualifications as Multi-Clad Pro. By scarifying another $100, it would be worth for those who want France-made certified, not China, and more enhancing beauty.

The Viking Contemporary ($399 for 10-piece set) is outstanding for beautiful Winsor style 3-ply and nice quality craft. However, the odd variety pieces, uncomfortable handles and price tag lessens much scores.

The Calphalon Tri-Ply ($399 for 13-piece set), and Calphalon Contemporary ($499) that is identical in quality but different in design, performed worse than Cuisinart Multi-Clad Pro but better than Tramontina Tri-Ply in experiment test[6]. Moreover, it comes with smaller size and glass lids.

The Emeril's Pro Clad by All-Clad ($299 for 12-piece set), a China-made, works moderately nice. But it has glass lids and slightly thinner than Cooks Standard and Tramontina while cost a hundred more for the reputation of chef Emeril and All-Clad.

The KitchenAid Tri-Ply ($299 for 10-piece set), works fairly well in mid-range, but has many blamed for durability, design flaw and cleanup.

The Lagostina Axia ($279 for 10-piece set) is a finest in both quality and craft. This is an interesting rival of Cuisinart Multi-Clad Pro with a tad more expensive. We didn't experienced yet, however, most reviewers are impressed.

The Duxtop Whole Clad ($199 for 10-piece set) works nicely on various cooktop induction cooktop without buzzy noise. It works moderately well in mid-price range, but still has some food sticks and discoloration.




---
Footnotes
| | |
| --- | --- |
| (1) | Stainless steel itself isn't a good heat conductor. As the result, the quality cookware needs conductor material, mostly aluminum and copper, to boost cooking performance. This is why fully-clad type is preferable. |
| (2) | The prices mentioned are estimated retail prices at exact period and are subject to change. We list suggested sources for recommended products as a convenience to our readers but do not endorse specific retailers. |
| (3) | According to TheSweetHome experiments, All-Clad did best results on even heating. On skillet test, All-Clad tri-ply had 30-degree difference between the hottest and the coldest spots on the heat map, while Multi-Clad pro and Tramontina had 50- and 78-degree. For boiling test, All-Clad saucier reached for quick boiling in 6 minutes and 30 seconds, whereas Cuisinart Multi-Clad Unlimited and Tramontina needed 7 minutes and 40 seconds and 11 minutes and 11 seconds. And after 10 minutes off the stove, All-Clad went down to 137°F, Cuisinart and Tramontina were at 142°F. |
| (4) | Not every pieces is USA-made. The body of pot and pans are made in the US with material from the US, while some handles, lids and some small pieces may come from China in some series. While Emeril's by All-Clad series are totally made in China, from materials from China. |
| (5) | J. Kenji Lopez-Alt did side-by-side test on All-Clad and Tramontina tri-ply series for 4 aspects: heat distribution, heat retention, speed to react temperature change and miscellaneous. He concluded suggestion for All-Clad as differently all-around better performer, but Tramontina was for budget buying. |
| (6) | According to TheSweetHome evenly test on skillet by comparing difference between the hottest and the coldest spots on the heat map, All-Clad tri-ply had 30-degree difference (best result), Multi-Clad pro had 50, Calphalon Tri-Ply had 70 and Tramontina had 78. |