Best Slow Cooker
Last update: July 2016
| | |
| --- | --- |
| The Winner | |




Best All-Around

This is an all-time most recommended slow cooker out there---talented cooker in reasonable price.

This is some kind of 'all-time favorite' slow cooker among many home users and experts, includes Consumer Reports. Apart from set-it-and-forget-it features, this programmable cooker comes with a thermometer probe, which lets easier for making juicy roasts with no more overcook. Moreover, it's not only user-friendly, budget-friendly, also. Full Review ›



| | |
| --- | --- |
| Runner's Up | |




Best Versatile

The Cook Central is a good upgrade for serious slow cooker enthusiasms for both quality and features.

For trustful sturdiness, features and easiness, this is a best versatile slow cooker in the market. The Cook Central lets boosting more flavor and juicier dishes by allowing roasting/sautéing ingredients before slow cooking or steaming process, just by one programmable touch. The sophisticated look and BPA-free for nonstick parts are totally satisfied. Full Review ›



| | |
| --- | --- |
| Runner's Up | |




Best Value

Nothing fancy but this manual Crock Pot has everything a good slow cooker should has in more affordable price.

If you have tight budget or won't plan to use slow cooker so often, this Crock-Pot should has everything you need. It provides simple but reliable features like a manual slow cooker. Also, as its name, Cook & Carry, it comes with secure clips that make carrying or on-a-trip moving much easier without messy spills. Above all, this is a best bet to get a simple great cooker in value steal. Full Review ›





Worth it?
Initially, slow cooker isn't an essential kitchen tool as Dutch oven or casserole pot can handle the same duties---stews, soups and simmers---while give superior flavor and aroma. Still, it's a most seen tool on the countertop. Possibly, the main reason are convenient and easy for busy people who love to arrive home after work and have something delish already cooked.

Additionally, Judith Finlayson, author of The 150 Best Slow Cooker Recipes and Delicious & Dependable Slow Cooker Recipes, opinioned that the biggest advantage of this tool is to save the money because it can deliciously and nutritiously cook with inexpensive cuts of meats, vegetables and beans. "The slow cooker is the perfect appliance for a recession", she says.

Slow cooker comes in wide ranges of price, from $15 to $300. Mostly, the more bells and whistles, the more expensive---programmable type is typically pricier than manual one. So, if you're raving for budget product, consider simpler crock pot instead.



What To Look For
Type. Slow cookers can be considered for 2 types: manual and programmable. According to Consumer Reports, the cooking ability seems not different. "In our past tests there wasn't much difference in performance between types, but the added features provided added convenience", they said.

Manual slow cooker are less expensive while programmable cooker has more facilities to make your life easier. If having unpredictable schedule, spend an extra money on programmable one should ensure not to cook dry or burn.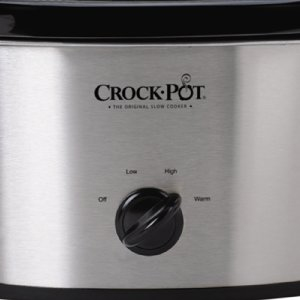 Manual/ Mechanical
These slow cookers work like a traditional 80-ish pots. They have simple on/off setting, which need users to monitor and adjust the setting manually.
Basic settings: Low, Medium and High.
Don't have timer.
Some newer models comes with Warm mode, but need to set it manually.
Available in various sizes, from 1-8 quarts.
Inexpensive, commonly under $50.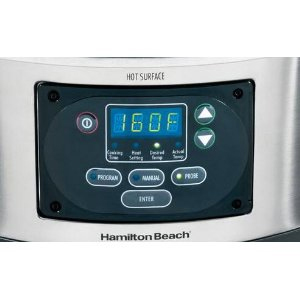 Programmable
Most new models born with 'set-it-and-forget' function---press a few buttons and waiting for your meal, no additional setting.
Advanced settings and modes. Some models are more likely to multi-cookers as they can cook many different methods: slow cooking, sautéing, steaming, rice cooking or baking bread.
Have timer. Most recent models can be set the cooking time up to 24 hours or longer. Some models also have delay timer.
Automatically switch to Warm mode.
Some models have easy-to-read digital display that show remain cooking times.
Available in limited size, mostly 5-6 quarts.
Pricier than manual models, from $50 to $300.


Insert pots. Concerning to food safety, most experts recommend using removable pots that made of ceramic. When the models you choose have other materials, ensure that they safe for use. For example, any nonstick parts should be free from BPA, PFOA or some possibly harmful chemicals.

Size. Generally, the sizes recommended for feeding (with no leftovers) are:

Tiny (dippers or fondue): 1 to 1.5 quarts,
Small (1-2 people): 1.5 to 3 quarts,
Medium (3-4 people): 3.3 to 4 quarts,
Large (5-6 people): 4 to 6 quarts,
Crowd (6-8): 6-8 quarts.
Still, if you plan to have some leftovers or cook a whole chicken, 5-6 quart size is good for a family of 4.

Shape. Slow cooker can be found in round, oval or even oblong. Even with the same capacity, the oval and oblong ones can better fit bigger chunks, such as big cuts of meats or a whole chicken and are good for cooking yeast in a loaf pan. While round ones are often less expensive and more available.



And The Winner is...
If you ask around for picking a nice, reliable slow cooker in mid-price range, we pretty sure that this Hamilton Beach cooker should be in one of the top recommends.




Best All-Around:

Hamilton Beach Set 'n Forget Programmable Slow Cooker (33969A)




| | |
| --- | --- |
| The Winner | |

Performance
9

Quality
9

Ease of Use
10

Appearance
9

Value
10

OVERALL RATING


The Hamilton Beach Set & Forget basically completes what we need for a good programmable slow cooker---programmable temperature setting, 14-hour timer, automatic Keep Warm mode and digital control panel. We love that it can really just set it and forget it: after putting all ingredients, you set it and leave it until your next mealtime.

It comes with 3 cooking options: Manual, Program and Probe; all settings are user-friendly. With Program, you choose cooking time or temperature, and it automatically switch to Warm mode when reaching cooking cycle.

According to ChowHound test, the performance is reliably good for mid-range product. It does a fine job cooking meats but can't handle well for more delicate recipes. (rice pudding in the experiment) It did impressive results in other expert test, includes Consumer Reports (as a recommended product), Cnet and TheSweetHome, as well as real users.

While Probe setting is probably the big deal. Just specify a doneness heat of the meat, then it will switch to Warm setting when reaching the temp. This wisely combines the easiness of old-fashioned pot with practical thermometer probe, and also raises the value of this simple crock pot.

The overall design isn't much attractive but practical. We especially love the tight clipping lid for easy transport. While the digital panel looks a bit old-fashioned but easy to use and read.

For about $50 , Hamilton Beach Set & Forget is a very straightforward slow cooker. Nothing much fancy, it offers basic and desirably useful features, such as clear-cut programmable setting, built-in thermometer probe and locked lid, in reasonable price.



The Runner's Up
All we can say is that the Cuisinart Cook Central is one that should be worth the expectation when spending more than $100 on a slow cooker.




Best Versatile:

Cuisinart 3-in-1 Cook Central Multi Cooker




| | |
| --- | --- |
| Runner's Up | |

Performance
10

Quality
10

Ease of Use
9

Appearance
10

Value
8

OVERALL RATING


The Cuisinart Cook Central is a decent upgrade for both quality and features. In fact, the product design got top scores; it's truly made for slow cooker enthusiasts. This programmable slow cooker allows for sautéing, browning inside the nonstick pot. This makes great for searing meats or caramelizing ingredients before simmering for better flavor, without extra skillets.

The setting is fool-proof. It offers 3 cooking mode: Slow cooker, Sauté/Brown and Steaming. In fact, it comes close to multi-cooker as allows for browning. While Slow cooker mode works nicely like a fully programmable one. It comes with noticeably long timer (24 hours) and automatic Keep Warm.

The performance is outstandingly impressive. Apart from nicely searing/sautéing ability, the temperature operation is superior. Unlike many others that tends to raise temperature too quick or hot, this machine has steadily and evenly slow cooking; it also has proper Low temperature (around 165°F). These help crafting more delicate taste and tender meats, without dry out or burned food. Moreover, It has easy to use and accurate temperature setting, and can be programed from 140°F to 400°F.

The quality of the product is great, as reputed of Cuisinart's standard. The structure feels sturdy and well-made, as well as BPA-free in every parts which may contact food. It has handsome look with user-friendly LED panel. Plus, it carries 3-year warranty.

The Cuisinart Cook Central provides 3 size: MSC-400 (4 quarts), MSC-600 (6 quarts) and MSC-800 (7 quarts). The biggest brother MSC-800 provides an extra 'Roast' mode (250-450°F), and has higher heat for Brown/Sauté setting, 500°F comparing to 400°F of other two siblings. Concerning to size and temperature, the MSC-800 sensibly suits for roasting than stewing lovers, though it works well for every tasks.

The MSC-400 was picked by Cook's Illustrated as best small slow cooker. Likewise, the Cook Central was recommended by many experts and user as a reliable product. We can say: it's relatively expensive than normal treat but you definitely get what you pay for, a best slow cooker in the market now.




Best Value:

Crock-Pot SCCPVL600S Cook & Carry Manual Portable Slow Cooker




| | |
| --- | --- |
| Runner's Up | |

Performance
8

Quality
9

Ease of Use
10

Appearance
9

Value
10

OVERALL RATING


For 40 years of experience, Crock-Pot is still good at on their work, simple crock pots. And, the Cook & Carry manual version is another great example. No bells and whistles, it offers simple and reliable slow cooker for everyday cuisines.

Regardless of timer and automatic Keep Warm, this manual crock pot works very close to a mid-range programmable one. It does impressive jobs for cooking meats and chunky pieces, such as tenderly pulled pork, but can't handle well for more delicate recipes and flavors. Still, the performance is satisfied.

The usage is fool-proof. It comes with simple 3 setting; High, Low and Warm. You'll have to manually switch to knob to Warm when reaches the cooking time.

One best thing, like Hamilton Beach Set & Forget, this pot comes with secured lock lid for preventing spills while travelling or moving around. This features is pretty rare for manual or budget slow cooker, so it gains our praise.

Nothing more or less, the Crock-Pot Cook & Carry Manual Portable just provides straightforward as a good basic and reliable slow cooker, 6-quart size for less than 50 bucks. So, whether you're fastening your seat belts, unfrequently users or both, this mechanical model exceptionally shows budget-worthy.



Market Reviews
The prices mentioned are estimated retail prices at exact period and are subject to change. We list suggested sources for recommended products as a convenience to our readers but do not endorse specific retailers.




To be clearer, "why should we pay more for a slow cooker despite we can have a good one under $50?" In fact, reviewing basic slow cookers, mostly under $50, seems unnecessary as the core functions are close to those 80-ish versions, nothing trigger.

The higher-end models, on the other hand, are astonishingly differ in terms of fundamental, feature, material, design and gimmick. Moreover, some of them are noticeably upgraded in performance. Unlike the most mid-to-low price models and 40-year pots, which commonly found that tend to change temperature harshly---too rapid and hot, the new machines can really slow cook. They gradually raise the heat steadily and have accurate temperature setting. So, they beautifully handle delicate flavor and texture of materials, much better than lower end.

At any rate, if you just look for a basic function, which don't expect for the complex results than normal everyday dishes, old-schooled mechanical ones are capable and much cheaper.




Apart from our pick, Cuisinart Cook Central, one that has sear/sauté feature is Breville BSC560XL 7-quart Slow Cooker with EasySear ($129.99). It provides a nonstick cast-aluminum insert to beautifully sear and brown. However, we've found some complaint about less durability and too hot for slow cooking. It's not programmable, as well.

West Bend 84966 Versatility 6-quart Programmable Slow Cooker ($79), a programmable slow cooker, has nice idea of having nonstick griddle base and nonstick cooking pot separately. It has 4 settings: High, Low, Warm and Griddle. Again, the durability of nonstick coats and slow cooking ability are still disagreeable.



This concept is found in mid-price programmable in Hamilton Beach 33567T Searing Stovetop 6-quart Slow Cooker ($79.99). It's nice in performance for the price range but seems discontinue, though.



Anyway, if you're interesting in multi-task machines, see our review on multi cookers for more options.


For higher-priced level, the outstanding model as recommended by Cook's Illustrated is KitchenAid KSC6223SS 6-quart Slow Cooker ($99) as create juicy and tender ingredients and well-made materials. It's nice fully programmable with 24-hour timer. Still, we've found many complained about the insert pot crack easily and some parts are found defective.

All-Clad SD700450 Programmable Oval-Shaped 7-Quart Slow Cooker ($179) has well improvement from the previous 9009 model, but still was reported many unforgivable problems of durability for the sake of the price and name.

Crock-Pot SCCPWM600-V1 WeMo Enabled 6-quart Slow Cooker ($130), a new innovation for this market, comes with an exciting feature, the Belkin's WeMo app that can easily control your slow cooker remotely from your smart phone everywhere Wi-Fi connected. Apart from WeMo function, it works nicely like a fully programmable slow cooker.

Honestly, the main weakness is from 'smart' itself. We've found many problems about imperfect software and internet connectivity, such as lost internet connection while cooking from light out or some unknown reasons. Also, it can be set manually, but timer have to be set via app only. So, it has nice concept but needs to improve for more practical.



Rival Crock-Pot SCVT650-PS Countdown Touchscreen 6.5-quart Slow Cooker ($79) is previous recommended product of Cook's Illustrated. It goes slightly hot but work acceptably good for the price. While many enhancements rock, the quality of this cooker is still questioned. Many reviewers feel a bit pricy for the material quality.

Crock-Pot SCCPVL610-S Programmable Cook & Carry Oval 6-quart Slow Cooker ($49) deserves a side-by-side rival of our pick, Hamilton Beach Set & Forget for having nearly the same features and price. Crock-Pot has longer timer---20 hour comparing to 14 hours of Hamilton Beach---and more sleek design. If you prefer these than built-in probe of Hamilton Beach, this model is best-selling for mid-price range.

Cuisinart PSC-650 6.5-quart Programmable Slow Cooker ($95) has truly sophisticatedly well-dressed design and cooking ability. According to Chow How test, this programmable cooker can impressively handle both regular and delicate recipes. Like Cuisinart standard, it's well-built, yields reliable results and has 24-hour timer with automatic Keep Warm. If these are what you're looking for, it's a worthy splurge.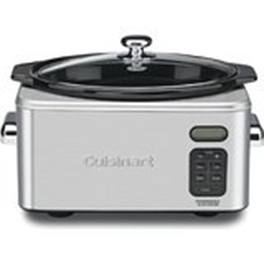 Cuisinart PSC-350 3.5-quart Slow Cooker ($59) is highly recommended for those who need small, sturdy and full-featured programmable slow cooker, with 24-hour timer. It prices more expensive for the size, but value for the quality and performance.