Finding things is sometimes messy. From years of cooking passion, we decided to create Allkitchenfind for being helpful shopping lists of things in the kitchen.

Know

what we do

,

our rating system

, and

FAQ

.

Categories
Cookware
Cutlery & Knife
Countertop Cookers
Food Preparations
Kitchen Appliances
Best Personal Blender
Last update: Mar 2017
| | |
| --- | --- |
| The Winner | |




Best Overall

This 900-watt machine is a right mixture of performance, feature and value as a nice single-serve blender should have. It offers satisfied results of many jobs---from protein shakes, fresh smoothies, crushing ices to nut mills in quiet operation.

Full Review ›
| | |
| --- | --- |
| Runner's Up | |




Best Performance

This Ninja machine is desirable for blending ability and user-friendly design. With 1,200 watts, it easily blows out any competitors with pleasingly smooth frozen-fruit smoothies, even better and faster than many bigger and pricier models, as well as grinds hard nuts for preparing foods effectively.

Full Review ›
| | |
| --- | --- |
| Runner's Up | |




Best Affordable

By spending under $30, Epica offers a very simple but work machine for single serve. This small blender comes with enough power to make home-edition smoothies and soft ingredients blending. While the 20-oz BPA-free container can versatilely resist temperature from -40° to 175°F.

Full Review ›
Worth it?
Unlike full-size blenders, personal blenders, a.k.a. single-serve blenders, or compact blenders, are designed for more specific purpose. While countertop machines aim for multi culinary tasks, these tiny machines focus on conveniently preparing single-serve beverages, as well as takeaway containers.

Most personal blenders have weak motor power, mostly under 500 watts, which can't deliver velvety smooth results or pulverize hard ingredients like the full-sized blenders, like Vitamix or Blendtec machines. Still, they're great simple tools to handle personal drinks, such as morning protein shakes, fresh veggie smoothies, baby foods or marinades. Moreover, for tiny size and tall shape, they're real space-savers for small-space dwellers, as well as travel-friendly tools.

Typically, personal blenders are inexpensive, mostly under $100. Noticeably, the blending power affects to the price; the more power, the higher price. If you expect for good quality smoothies, look for upper than 500-watt ones.

See more types of blender in our related reviews.



Countertop Blender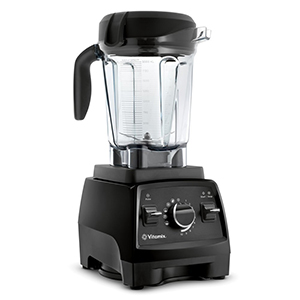 Countertop blender, both High performance and Traditional (normal purpose) blenders comes with more power and durablity for versaltile culinary works.
1 to 3 hp or more than 1,000 watts*.
For versaltile kitchen duties, from ice crushing, saucing, milling and grinding, puree, hot soup, smooties, cocktials
Bigger and taller design.
Faster operation.
Longer lifetime.
Longer waranty, depends on models.
$200 to $750.
Immersion Blender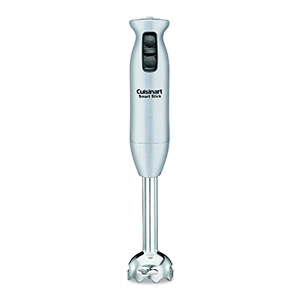 These, sometimes called
hand blenders
or
stick blender
, quite lean to specialty devices than kitchen essential tools. They has cylindrial device with blades for directly dipping into the food to make creamy imulsion texture.
Less than 600 watts*.
Use as a complement tool for fulfill the perfection of recipes.
$20 to $150.
* Roughly estimated value.
What To Look For
How will you blend? Like countertop models, personal blenders come with various price. The more power, the higher price. Still, for low-intensity jobs, like yogurt or protein shakes, a 250-watt one is enough and agreeably help saving your budget.


Power. We mentioned earlier in countertop blender review that horsepower or wattage labeled on these machines aren't everything. Still, for these low-power machines, the motor power is quite significant. Since most single-serve blenders come with under 500 watts, they can't make fine smoothie or handle hard ingredient pulverizing, such as frozen fruit smoothie. If these are serious, look for more than 700 watts for fruit smoothies and more than 1,000 watts for hard grinding.


Design and Assembly. Personal blenders are mostly designed for converting into a drinking mug or bottle for being convenient to instant drink or grabbing to the outside. So, the assembly mechanism much differs from traditional blenders. Pick ones that have easy but solid devices when screwing/unscrewing at the base, as well as tight lids.


Container/Jar. Personal blenders come with bottle-, cup- or travel mug-like design for instant drink. Look for solid ones that has good shape to grip. A slightly wider-top shape make easier to fill ingredients. If possible, choose BPA-free for preventing possible healthy issues.

Most containers come with personal size, 18 to 35 ounces. Some models offer extra 2-3 different size cups. Some models may come with extra cup for food preparation, which is optional.

Best Personal Blender
There're tons of personal blender out there at tons of price ranges, but in this review, we mainly looked for ones that can make 'good smoothies', as the priority. As for this, Bullet Nutri bullet and Nutri Ninja machines, the two big brands that dominate the market of high-powered personal blender, were picked for overall outstanding performance.




The Winner:

Magic Bullet Nutribullet Pro 900




| | |
| --- | --- |
| The Winner | |

Performance
9

Quality
9

Ease of Use
10

Appearance
9

Value
10

OVERALL RATING


Among tons of personal blenders, Nutri Bullet is a most all-time popular machine. This unit is a right combination of performance, feature and user-friendliness for instantly getting a morning cup of smoothie, with not-too-loud operation that can wake everyone up.

With 900-watt motor, the performance is fulfilled for a single-serve blender, certainly better than most rivals in the market. Nutri Bullet Pro can beautifully serve daily well-blended smoothie---leaving remaining strawberry seeds, but anything else is nicely blended. It also creates soft-texture milk shake, baby food and puree.

The operation is straight-forward. Nutri Bullet Pro comes with one speed. And, unlike the earlier model (the 600 watts), it doesn't need to be held down, just push down, and turn the cup to start blending. It comes with 2 sizes of container, which are 24-oz and 32-oz cups (more cups sold separately), and flip lid for travelling. More importantly, these parts is very easy to clean and dishwasher-safe.

Still, this blender may not much be capable for pulverizing ice cubes and frozen fruits (it can but gives inconsistency results), which clearly required more powerful ones. Hard grinding is pretty good with new blade (sold separately) that also claimed to make less noisy.

All we can say is: this Nutri Bullet Pro isn't something top-notch performance and solid quality like the case of countertop blender, the Vitamix. However, when considering: what we expect from a single-serve blender?---reliable blending ability, fool-proof usage, easy cleanup, travel-friendliness and value. As for these, this simple machine is good for serving these duties beautifully and quickly.




The Runner's Up
Best Performance:
Ninja Nutri Bowl DUO with Auto-iQ Boost
| | |
| --- | --- |
| Runner's Up | |

Performance
10

Quality
9

Ease of Use
9

Appearance
9

Value
9

OVERALL RATING


For upgraded experience, more than morning fresh juices or smooth yogurt shakes, this Ninja Nutri Bowl DUO is no-regret choice. With 1,200 watts, this machine is supposed to be a most powerful single-serve blender in the market. In fact, it does perform much better than many general countertop blenders out there in very compact size, which is more versatile to work and travel with.

The performance is impressive. Above from the powerful motor, it comes with blades and bowls for specific jobs. Unlike others, the Duo concentrates with 2 tasks: Nutrient Extraction works with tall cups and a sturdy blending blade for pulverizing, juicing or whatever a normal blender can do.

While Nutri Bowl, designed for preparing foods and hard milling, comes with a round and short bowl and 2 kind of blades, a food processor-like blade for cutting and grinding and a dough blade for making dough or mixing without cutting effect. Honestly, we think this machine is a perfect tool for small kitchens or armature cooks, as it can support the main culinary tasks beautifully.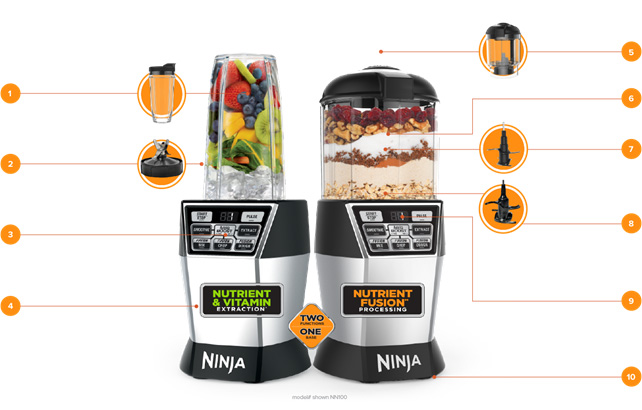 Moreover, we admit that we love the Auto-iQ feature of any of Ninja blenders, which combining specific time of blending, pulsing, and pausing to make the right patterns of specific jobs, no need to find the sweet spots yourself. The materials feel well-made, includes blades and BPA-free plastic parts. We like the heavy base and rubber feet that can confirm not to walk around when hard working.

However, this machine works noisily loud for single-serve standard. With pretty expensive price tag, this may not be worth for ones who just need normal smoothies or protein shakes. But if you look for a quick versatile tool and big motor for crushing ice or frozen fruit smoothies, Ninja Nuri Bowl Duo is highly recommended.




Best Affordable:

Epica Personal Blender




| | |
| --- | --- |
| Runner's Up | |

Performance
8

Quality
9

Ease of Use
10

Appearance
8

Value
10

OVERALL RATING


If what you want is just a simple personal blender in reasonable price, Epica offers a very simple but work blender for your morning serve. This small machine has enough power to make home-edition smoothies and milk shake easily.

The performance is good for normal morning drinks. With 250 watts, it can nicely blend soft ingredients, such as protein shakes, banana smoothies and beverage mixing. However, fruit smoothies leave chunkier ices and remain seeds (than Nutri Bullet or Ninja). For hard ingredients and ice crushing, some users claimed that it can pulverize frozen ingredients, Still, we recommended not to use for heavily crushing ice to prevent being voided the warranty. Ice coffee with 2-3 ice cubes are nicely done.

Epica comes with a very simple on/off button. Still, we love that it claimed to safely work in wide range of temperature, from -40° to 175°F, which is a common for pricier models but not for cheaper ones.

A little downside is the container, which comes with a bottle-shaped with narrow tip cup in small 20 ounces. This may suit for personal on-the-go facility, but it makes harder to fill-in ingredients and cleanup. The durability is still questioned. Still, for $30* and 2-year warrantee, Epica truly offers an affordable and practical machine for your everyday routine.



Market Reviews
The prices mentioned are estimated retail prices at exact period and are subject to change. We list suggested sources for recommended products as a convenience to our readers but do not endorse specific retailers.



For personal/single-serve blender market, the Magic Bullet/Nutri Bullet, dominates the shelves in terms of variety models and popularity. Above from our pick, the Nutri Bullet Pro, Magic Bullet ($59.99) as the original model comes with ordinary power, 250-watt, is successful for normal soft ingredients blending, but can't tackle frozen ingredients or hard grinding, and leave uneven smoothies. The quality of blending comes close to Epica.

Nutri Bullet ($79.99) offers moderate motor, 600-watt, which is America's Test Kitchen picked as a runner-up. This machine is capable for pulverizing fiber-packed veggies and some hard ingredients, such as kale, chia seeds or some berries, but not much good for a bunch of frozen fruits. Anyway, it's well-worth for simple everyday tasks.

While Nutri Bullet RX ($150) comes with big 1,700-watt motor and family-size capacity. Comparing with Vitamix S30, the RX breaks down berries and seeds equally but Vitamix gives more liquid texture than S30. As a powerful machine without tamper or a pulse, it sometimes makes some ingredients stick to the side or bottom, which needs a cup shake to get process working again. So, it's recommended not to overfill the cup to lessen the issue. The hot soup is nicely done, though.

Probably, the most expensive personal blender is Vitamix's. The Vitamix S30 ($399), the most popular model, comes with reliable 790-watt motor with adjustable speed and a pulse. The S30 can pulverize smooth smoothies without flakes and crushing ice cubes.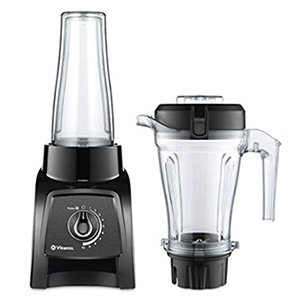 While Vitamix S50 ($419) and S55 ($469), which have same motor power as S30 and 40-oz container, are undoubtedly decent performance. These machines can blend thick and hard ingredients into pleasing smooth texture, which are also suitable for puree and soup. The difference between S30 and these two is the pre-set programs.

Surprisingly, while having the moderately big motor, the Vitamix S-series can work without too much noise and heat. According from experimental test, S30 even quieter than many lower-than-500-watt models[1]. The price is obviously high, but quality of materials and impressive performance are real like as a high-end should, with carrying 5-year warrantee.

Breville Boss to Go ($159.95) does very impressive jobs like a big brother Breville Boss. With 1,000-watt motor, offers very smooth blending and thicker result than normal models. This machine is capable for pulverizing kales and frozen berries (left very least seeds). Breville did claim, from their conducted test, that this machine can blend 27% finer than Nutri Ninja BL480 and Nutri Bullet 600 watts[2].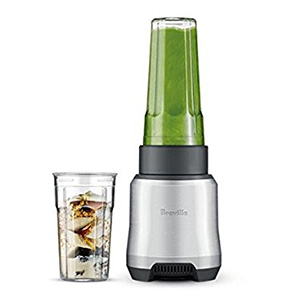 However, as having no on/off switch and some assembly need considerable effort to get it work, it may be hard for those small or arthritic hands, which is inconvenient for some conditions. Also, there're some complaints about durability of materials for its price. Still, Breville Boss to Go is a nice option for getting silky smoothies at home, without too loud noise.

Ninja has the many variety models in the market. If you need just a single-serve machine for making fine fiber-packed or frozen fruits smoothies, the Nutri Ninja with Auto-iQ ($99) is highly recommended, as cheaper than our pick. While the former model, Nutri Ninja BL450, the popular one that won America's Test Kitchen, seems likely discontinued.

Tribest PB-150 ($59.95) comes with 200 watts and 16-oz cup, it suits for normal jobs than hard pulverizing; some ices, veggies, or seed grinding are unevenly done. Still, this mini blender is renowned for durability. Many reviewers claimed that they've been used Tribest for more than 8-10 years without any problems with the motor (the blades and some parts were replaced, though). Overall, this is one that worth the investment for single-serve or small tasks.

Cuisinart CPB-300 ($57.59) offers moderate 350-watt motor with a sleek touchpad and LED light control. We like separated HIGH and LOW buttons with a pulse. It blends pretty good, not much consistency like those bigger motors but good enough for making home-editioned smoothies and chunky ice crushing. The whole materials feel well-made and sturdy, which carries 3-year warranty.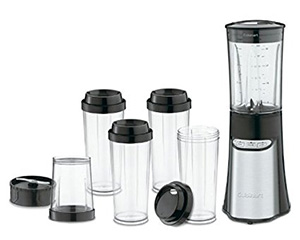 Still, there're some complaints about durability of some parts. Some users experienced defective parts and stopped working motor less than 3 years.

Bella Rocket Extract PRO ($39.99), recommended by American's Test Kitchen as Best Buy, offers very good qualifications with budget-friendly. With 700-watt motor, this small blender is powerful and fantastically effective for most home tasks. Again, there're too many durability issues found, such as burnt or smoking motor, broken blades, black substance from some assembly, which made stop working less than a year of use. Without hard usage, this blender is another good budget buying.




---
Footnotes
| | |
| --- | --- |
| (1) | According from Your Best Dig's experimental test with 7 products. |
| (2) | Smoother smoothies from a smoother cup than some other blenders. Test conducted at University of Sydney, June 2015 using the same amounts of Kale and water. Results showed average particle sizes from the Breville Boss To Go as being up to 27% finer than the NutriNinja BL480 and up to 42% finer than the Nutribullet NBR-1207M (600w). Ingredients were blended for 60 seconds in all blenders and the "Ultra Blend' mode was used on the NutriNinja. The Breville Boss To Go may not produce finer results than all Personal Blenders on the market or when using different types of ingredients. Results will vary based on blending time and other variables. Click here for further information - HERE |