Finding things is sometimes messy. From years of cooking passion, we decided to create Allkitchenfind for being helpful shopping lists of things in the kitchen.

Know

what we do

,

our rating system

, and

FAQ

.

Categories
Cookware
Cutlery & Knife
Countertop Cookers
Food Preparations
Kitchen Appliances
Best Electric Pressure Cooker
Last update: Sep 2016
| | |
| --- | --- |
| The Winner | |




Best All-Around

This is a truly all-in-one machine that does great for most duties, especially for pressure cooking. Good for performance, safety, ease of use and price.

The Instant Pot IP-DUO60 stands out for a truly 'set-and-forget' multi-purpose machine. Not just a boast, this programmable pot performs well for most duties available---from tasty soup, chicken stew, roast meat, Asian rice to even fresh yogurt---just by one touch. For good quality, safety and ease of use, this multi-cooker is well worth for your money and counter space. Full Review ›



| | |
| --- | --- |
| Runner's Up | |




Best Buy

This is a reasonable choice of your budget. The CPC-600 has a decent mixture of reliability, cooking result, ease of use and price.

While most electric pressure cooker these days offer multi taskers, this Cuisinart CPC-600 serves its best duty especially for pressuring process, with no additional money spending for other duties that you may not need. For almost a half price of regular multi-cooker, it provides reliably impressive results and has useful features for completing delicious recipes, Brown and Simmer. Also, it's recommended by Consumer Report. Full Review ›



| | |
| --- | --- |
| Runner's Up | |




Best Performance

Need superb machine for pressurizing? The Fast Slow Pro provides super cooking results with most available functions that are easy to use.

This pot is a successful combination of two most-used duties in the kitchens: pressure cooker and slow cooker. In fact, for serious pressuring cooks, the Breville Fast Slow Pro absolutely rocks as showing impressive cooking ability. With 1,100 watts, various temperature adjusts plus 21 cooking programs and two temperature sensors for better safety mechanism, this machine is such a dream for cooking lovers. Full Review ›





Worth it?
We mentioned in review of stovetop pressure cooker that pressure cookers are not kitchen essentials in most lists. Still, electric pressure cookers are rather different. These machines these days are closely to multi-cookers than single-duty cookers, like slow cookers or on/off machines. They tend to pool various useful features in one pot, which are slow cooking, searing/browning, sautéing, rice cooking, steaming or even yogurt making. So, electric cookers nowadays are concerned as useful tools for busy-some and small-spaced living people, or even home chefs for the sake of practicality and ease to use.

As clearly reviewed on pressure cooker comparison, we won't take long discuss on why or how the electric type is better than stovetop type. Still, probably the most straightforward answer is the convenience. Though scarifying some level of cooking ability and durability, the machine versions are allowed for 'set and forget' ---you set it and walk away.

Moreover, it's easy to use. As you may know, the good stovetop cookers have precise temperature control, so you need a few tryouts for finding out the right temperature level for each type of recipes for getting best results. While electric versions just require to press a few buttons, and you can expect for your delicious meal--- No watching, no splashing, no noising and save your counter space.



What To Look For
Unlike stovetop version, electric machines don't require much knowledge before buying as most of them have nearly the same regulator, pressure level (mostly around 10-12 psi) and method of cooking. However, these are some advices for choosing good one:

(1) Safety Features. Whether stovetop or electric type, safety is prior issue to concern. For a peace of mind in using any electric machine, they must have certified by UL/ULC standard. Check that the lid is properly locked or has no leakage before cooking process. Also, they must have well pressure regulator protection, automatic release pressure system when reaching high pressure (around 15 psi). Anyway, as newer versions have micro-computer to wholly control temperature and pressure, they tend to be safer from having smarter and more precise sensors.

(2) Controllers. According from Instant pot, electric pressure cookers can be segmented into 3 generations by control capability:

1st Generation: Mechanical timer without delayed cooking time.
2nd Generation: Digital controller with countdown timer.
3nd Generation: Microprocessor with smart programming, which controls whole operations of the machine intuitively. These can be found in multi-cookers.

(3) Features. The newer electric pressure cookers come close to multi cookers. These smart cookers are useful and good for safe our counter space. However, they're more expensive than single duty pots. Our recommendation: whether a 7-in-1 pot or just a single duty cooker, buy whatever you'll really use. Anyway, for better flavor, we suggest considering ones that has searing and simmering features.

(4) Insert Pot. While nonstick pots make easier to maneuver sticky ingredients, such rice or risotto, we prefer stainless steel pots are more durable and non-reactive. Still, if you love nonstick, check sturdy ones that has no possible harmful coats and learn to care properly.

(5) Control Panel. The control pads should be easy to control and notice the number the screen, as well as not get hot when cooking. If they're too complicated, check the manual or ask the manufacturer for clearer understand before use.



And The Winner is...
After first introducing to the market, Instant Pot machines become a most popular product among users and pros until now. The biggest batch behind the scenes is the ease of use and good cooking results. this machine can serve successful flavor recipes, even for newbies.




Best All-Around:

Instant Pot IP-DUO60 7-in-1 Multi-Functional Pressure Cooker




| | |
| --- | --- |
| The Winner | |

Performance
10

Quality
9

Ease of Use
10

Appearance
10

Value
9

OVERALL RATING


Like modern electric cookers, the Instant Pot IP-DUO comes with microprocessor. This allows doing multi-tasker with self-thinking temperature control. Aside from pressure cooking, it can do slow cooking, rice cooking, sautéing/browning, steaming, warming and yogurt making. For even more fool-proofed using, just press one of 14 cooking modes for instant cooking----real 'set-and-forget' machine.

The DUO has 2 pressure settings: High Pressure (10.2 - 11.6 psi or 239-244°F) and Low Pressure (5.8 - 7.2 psi or 229-233°F). It does impressive jobs on pressure cooking, rice cooker and slow cooking as can create tender and flavor taste of meats, beans and hard grains, quite equivalent taste to stovetop cookers. While sauté/browning works unfriendly from limiting of heat adjustment and insert space like most electric cookers. Other features work satisfied. Also, the automatic delay cooking timer (up to 24 hours) is practically helpful.

The safety features gain big score. The DUO is extremely safe from excessive safety mechanism. Start with safety Lid Lock prevents accidental opening while pressurized. And, as having microprocessor controls proper temperature and will automatically releases pressure when reaching 15.23 psi. If it fails, the excess pressure will be released into the body of the machine to lower the pressure. See details of safety mechanisms at their website.



The Instant Pot comes with stainless steel insert with 3-ply base for evenly cooking, which is good for durability, food safety and cleanup. The 'come-off' lid (can separated from the pot) that can rest it in the hinged handle for easier to clean and ladle off. The LED screen is user-friendly; The screen is big enough to notice, while the buttons are good to understand and press. We also like that DUO has 3 size available: 5, 6 and 8 quarts[1].

Overall, Instant Pot IP-DUO is a good compromise of performance, safety and ease of use. Comparing to other rivals in the same price ranges, this machine is unbeatable.



The Runner's Up
Whether "7-in-1" or "how many-in-1", it only matters if those products can do the best on what you want to they to do. If not, just a single-duty-but-great machine would be better.




Best Buy:

Cuisinart CPC-600




| | |
| --- | --- |
| Runner's Up | |

Performance
10

Quality
9

Ease of Use
9

Appearance
10

Value
10

OVERALL RATING


If the question is: Can we find a really good, not just so-so, electric pressure cooker under $100, Cuisinart CPC-600 (or EPC-1200 in some sellers) is that the one. While this machine may be underestimated from not having 'xxx-in-1' label, it's a complete and reliable cooker so far.

The whole performance is impressive. The CPC-600 pleasingly bring nice flavor and texture of the foods. It has 2 pressure settings: High (10 psi) and Low (6 psi). Noticeably, this unit cooks a little faster and better taste than Instant Pot. Moreover, though the product claiming that having lower pressure level, it can reach higher cooking temperature[2] in real uses.

Another good thing, though this cooker leans to single-duty pot, it has complete functions for making full-of-flavor recipes as practically letting browning and sautéing before pressuring, or simmering rich gravy when pressuring is done. And, while lacking of slow cook feature, Simmer is pleasantly practical and great for making soup. Also, the safety feature is standardly good-built and has countdown timer with simply LED display.

Perhaps the big downside is nonstick insert. This may require replacing one or two before ending of warrantee period of 3 years. (If you love nonstick finish, this isn't a problem). You might get a Secura 18/10 stainless steel pot ($29.99) for solving this. However, the price when taking all things into the account comes close to Instant Pot whereas missing of multi-functions.

Cuisinart CPC-600 is recommended by Cook's Illustrated (with reservation) and Consumer Reports. This machine is definitely great for beginners, as well as budget-tight people, as it's very simple to use, easy to clean, good cooking performance and solid craft, for under $100.




Best Performance:

Breville Fast Slow Pro




| | |
| --- | --- |
| Runner's Up | |

Performance
10

Quality
10

Ease of Use
9

Appearance
9

Value
8

OVERALL RATING


Breville Fast-Slow Pro is truly a solid tool, especially for serious cooks, as allowing to customize the temperature, cooking time or even pressure release method. Still, if you just need an instant pot, this 7-in-1 multi-cooker, with 11 pre-set cooking modes, can readily do 'set-and-forget' operation like others.

Cooking performance exceeds the expectations. This 1,100-watt machine offers flexible settings---8 pressure settings from 1.5 psi to 12 psi, 2 slow cook settings, 3 sauté settings and 3 reduce settings. It does well for most duties, even for pre-selected modes, such as Risotto. But, searing and sautéing are noticeably better and quicker than competitors. Expectedly, Breville is rather outstanding for ovens, griddles and hot plates.

The control panel is truly initiative. It comes with knobs for most-used functions: Temp, Select and Time. This is helpful as tuning knobs make easier and quicker to adjustment and sturdier in the long-run than pressed buttons. The color-changing LCD display is splendid---big, easy to read and informative. By having in 3 changing colors: 'Off' when off-operation, 'Orange' when cooking and 'Blue' when ready, this lets knowing what's going on at a glance.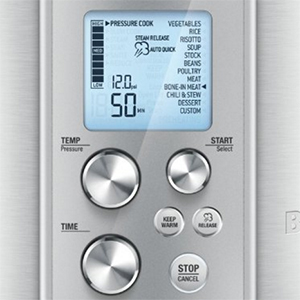 We aren't favor of nonstick insert but the solid waffle-like surface ceramic inset is really nice. While utilizing nonstick feature for beautiful searing meats, the ceramic coat is safer (as PTFE- and PFOA-free and more heat-proof than 350°F) and sturdier than traditional nonstick, as well as easy to clean. Most parts of this machine can go dishwasher, as well.

Safety features is excellent. Not only having various of reliable safety mechanisms, it has double sensors: one on the lid and one on the base, which yields more precise and accurate controlling, and rapidly detecting overheat. Our beloved feature is automatic pressure release, which make it truly a 'set-and-forget' machine. Still, if you need it quicker way, just easily press and hold 'Release' button for a few minutes.

Until now, the Breville Fast-Slow Pro is the most striking pressure cooker out there as being a big upgrading of automated cooking. However, cutting of minor fussy issues, this machine is still more 2-time expensive than Instant Pot, which keeps it from being the winner.



Market Reviews
The prices mentioned are estimated retail prices at exact period and are subject to change. We list suggested sources for recommended products as a convenience to our readers but do not endorse specific retailers.



Start with a most spotlighted product, Instant Pot IP-Smart Bluetooth-Enabled ($250) is a most technological advance of pressure cooker here, which reminds us of Crock-Pot SCCPWM600-V1 WeMo Slow Cooker. The IP-Smart can be controlled via Bluetooth with free mobile app (for now, only Android and iOS). Without the app and extra display icons, this machine is actually the DUO as having same features and pressure settings. It comes with interesting gimmicks. For example, we like the idea of DIY Recipes that you can create (and share) whatever in your recipes. It allows to know what's going on inside the pot, as well as set time and temperature without having to reset like the DUO.

Still, we're still not real fans of any wireless cookers as they usually get problems about loss connectivity, non-cooperative apps and bugs, which possibly make unsuccessful cooking. Moreover, as connecting via Bluetooth, it's limited using only around 10 feet, not visibly convenient than manual. So, the extra wireless features may be not worth the higher price tag than the DUO.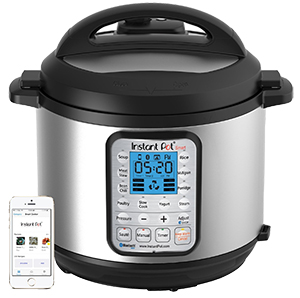 If you want more budget pressure cooker in the same quality of our winner and yogurt maker isn't your must-have feature, Instant Pot LUX ($90 for 6.33 quart) is a wise alternative. Still, considering all many sensible improvements, the DUO is still good value even having to spend more $30. See improved features comparison below.



| | | |
| --- | --- | --- |
| | IP-LUX (improved version) | IP-DUO |
| | | |
| Pressure Cooking | Single pressure settings: High 10.2 - 11.6 psi | Dual pressure settings: High 10.2 - 11.6 psi; Low 5.8 - 7.2 psi |
| Yogurt Maker | None | Yogurt: up to 99 hours 30 minutes at 96.8 - 109.4°F |
| Built-in Smart Programs | 10 | 14 (including all IP-LUX programs) |
| Keep-warm | Automatic Keep Warm: up to 10 hours; Manual Keep Warm up to 10 hours | Automatic Keep Warm: up to 10 hours; Manual Keep Warm: up to 99 hours and 50 minutes |
| LED Display | 4 digits | 4 digits with 30% larger |
| Lid Fin Holders on Base | No | Yes |
| Condensation Collector & Cord Rack | No | Yes |
| Anti-block Shield | Single shield: on steam release vent | Double shield: on float valve and steam release vent |


Aside from Instant Pot, Fagor LUX multi-cooker ($129 for 6 quarts) is a challenger of Instant Pot DUO as having nearly the same multi-features, even for yogurt making. It has nice cooking options, sturdy nonstick ceramic-coated pot and 3 sizes available (4, 6 and 8 quarts). However, it has too short cooking time in some functions, for example only 99 minutes for pressure cooking. Moreover, the cooking ability seems weaker than Instant Pot as cooking 5 psi (Low) and 10 psi (High) and some user found leaking steam around the pot.

While Fagor Premium Electric Cooker & Rice Cooker ($90), a Consumer Report's recommended product, standouts for a competitor to Cuisinart CPC-600 for having quite similar features, such as pressure cooker, brown, sauté and keep warm and nonstick insert. The settings aren't complicated and easy to use. Fagor Premium also has rice cooking and risotto modes, which Cuisinart hasn't. According to Consumer Report test, this unit cooks slightly faster than Cuisinart. Still, it has quite short keep warm, only 12 hours. Besides, we've found some complaints about durability, lacking of a steam rack and unclear manual.

Secura EPC-S600 ($99) has most features like Instant Pot LUX with stainless steel pot. As a 6-in-1 mid-price multi-cooker, it works impressive and easy to set. However, it seems to get quality control issue. Many users found problems about broken and stop-working units. It also has unfriendly manual and annoying sound alerts. Still, it's good for the price.

Elite Platinum EPC-1031 Maxi-Matic ($99) offers big 10-quart capacity than others. This multi-cooker 8 pre-set menu functions with 24-hour delay timer. Again, the quality and durability of the product are questioned as many users found defective products.

T-Fal CY505E ($99) is another popular model as having 12-in-1 programmable functions, includes yogurt maker, with various prompt programs. It has noticeably roomier than Instant Pot even having the same capacity from lid design. However, there're many flaws that can't be compromised. The overall function can easily make confused while the manual isn't much help. More, some users noticed that it T-fal cooks much slower than Instant Pot and also makes struggle with lagging time before changing to another mode. Unlike Breville, this machine has pretty fragile ceramic-coated insert which makes much difficult to care.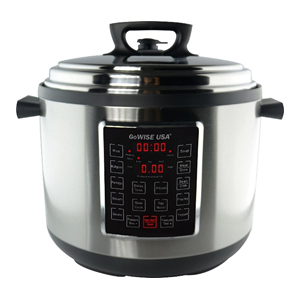 GoWISE 4th Generation ($149 for 14 quart) is probably the biggest electric pressure cooker available in the market. (Actually, it offers 4 options: 6-, 8-, 12- and 14-quart size.) As being 8-in-1 machine, this multi-cooker can handle same duties as Instant Pot does. The whole construction feels sturdy with stainless steel insert pot. We love that it comes with complete essential pieces, which are a steamer rack, an egg rack, a measuring cup and a spatula ---no need to buy any extra pieces later. Still, we've found some complaint that Sauté function doesn't really work.



---
Footnotes
| | |
| --- | --- |
| (1) | DUO series comes with 3 sizes: IP-DUO50 (5 quart), IP-DUO60 (6 quart) and IP-DUO80 (8 quart). Each size has same operation and features. Still, apart from size, they are different in heating power, which are 900 watts for IP-DUO50, 1000 watts for IP-DUO60 and 1,100 watts for IP-DUO80. |
| (2) | The Instant Pot claims a range of 10.2-11.6 psi while Cuisinart is 10 psi. However, according to America's Test Kitchen in Pressure Cooking Perfection, corresponds to some user tests, found that the true temperature is higher than Instant Pot (241°F). This also happened with Low pressure. |