Best Blender
Last update: Dec 2016
1) Best High Performance
| | |
| --- | --- |
| The Winner | |




Our Pick

This is a most perfect combination of decent performance, durability, and value in the market. You'll got a trustworthy powerful yet quieter machine that can bring a velvet kale smoothie or hot puree in a few minutes. Recommended by many experts, includes

America's Test Kitchen

and

Consumer Reports

.

Full Review ›
| | |
| --- | --- |
| Runner's Up | |




Runner's Up

This squared-jar blender can blend almost everything, like advertised. With 3 hp (1,625-watt) motor, delivering up to 29,000 rpm, Blendtec make perfect suit for crashing ice and frozen ingredients---it can pulverize milky smoothie without chunky ice. Plus, with 15.5" tall, this handsome low-profile blender can fit on any under cabinet spaces.

Full Review ›
2) Best for General Uses
| | |
| --- | --- |
| The Winner | |




Our Pick

This Retro-look blender can handle most duties for everyday tasks on the budget. With plenty 60-oz capacity, strong but quiet motor compact size of 16" tall and dishwasher-safe in very competitive price tag, this machine is all-around recommended for very reasonable buying. The variation of beautiful color ranges is undeniably attractive.

Full Review ›
| | |
| --- | --- |
| Runner's Up | |




Runner's Up

If you find a budget-friendly blender for making smoothies and crushing ice, spending about $100 on Ninja Professional is a good choice. With 1,000-watt motor, big 72-oz container and food processor blade design that can acceptably fulfill daily basis, this blender is value accent.

Full Review ›
Our Picks
1) High Performance
2) General Use
Worth it?
Nice blenders are like gems of any kitchens as they beautifully fulfil many favorite recipes---from crushing ice, healthy smoothie, morning milkshake, like-a-chef sauce, home-made mayonnaise, velvet puree to gummy ice cream. Among pile up mountain high of products in the market, we roughly separated blenders into 3 categories by objective of usage.



1. Countertop Blender




High Performance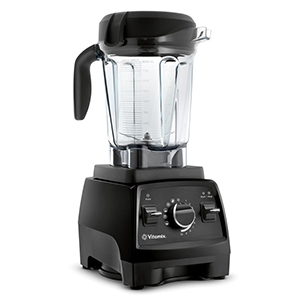 High performance blenders, so called professional (or listed as
commercial grade
in some brands), come with extremely powerful moter that can create noticeble better and faster results.
1.5 to 3 hp or more than 1,000 watts*.
For heavy-duty tasks. Silky-smooth results. No flaky ice or fibers, even with whole fruits or high-fibered vegetables.
Faster operation.
Longer lifetime.
Long waranty, typically more than 4 years.
$200 to $750.
Regular (Low Intensity)
Traditional blenders are for general home uses or ocassional duties. They have less power and durability, and can't handle long-period working. Still, they're much less expensive.
Less than 1.5 hp or less than 1,000 watts*.
For low-intensity blending tasks. Chunkier ice. Can't well pulverize hard grains and frozen fruits.
Slower operation.
Shorter lifetime.
Short or no waranty.
$30 to $200.
* Roughly estimated value.
2. Personal Blender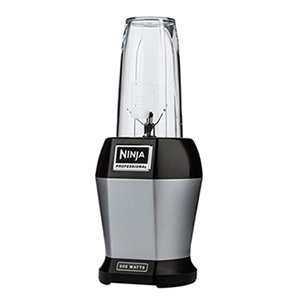 Personal Blenders are mostly designed for single serve or around 2 cups, mainly for preparing beverages. Some models come with travel jars for covenience to travel with. Suit for handling small low-intensity tasks.
Less than 700 watts*.
For purpose of beverage preparations, mostly for smoothies, shakes, baby formula or marinades.
$20 to $150
3. Immersion Blender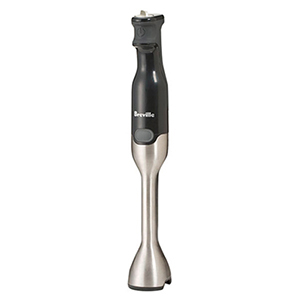 These, sometimes called
hand blenders
or
stick blender
, quite lean to specialty devices than kitchen essential tools. They has cylindrial device with blades for directly dipping into the food to make creamy imulsion texture.
Less than 600 watts*.
Use as a complement tool for fulfill the perfection of recipes.
$20 to $150.



In this review, we focused on countertop blenders, both high performance and low-intensity blenders, as they're typically use in every kitchen. If you're interested in other types, see more reviews on personal blender and immersion blender.



Blenders today cost with wide price range, from $30 to nearly $1,000. However, buying a good higher-price model sometimes doesn't mean to be a splurge. Most high-end products (like Vitamix, Blendtec or Breville) comes with excellent blending quality. They can beautifully serve everyday velvet smoothies, even for nuts and bolts ingredients for many years. They offer superior durability---not just 'die in a year' like many cheap ones do---and longer warranty.



What To Look For
How will you blend? This is the big question before buying a blender. The high-end blenders are excellent but expensive. If you're looking for one that can do basic tasks, a good 'low intensity' blender is just fine. While chefs or folks who seriously need more neat jobs, make a batch of dough or pulverized grains should find their best use in high-performance products.


Horsepower (hp). We can roughly separate types of blenders from how powerful they are. However, higher peak horsepower or wattage doesn't always mean superior ability as there're some other factors involving, such as jar design, blade design and efficiency of motor. The Breville Boss at 1,500 watts doesn't prove better results than Vitamix 5200 at 1,380watts.


Blade Design. The sharpness, numbers of the blades or even extra-ordinary style has little (or zero) effect to blending performance as simple 2 dull blades of Blendtec prove the finest blending results. Instead, too sharp blades may at risk of cutting yourself during cleaning or damaging spatulas when spinning. Look for not too sharp stainless steel blades for more durability and avoiding erosion.


Jar Design. According to Serious Eats, the shape of jars can help create good vortex that yields faster and more efficient blending, as well as easier to cleanup and pour. Also, don't forget to check ones that have long spout for drip-free pouring.


Tall Jar

Traditional-styled, tall and narrow jars, like

Vitamix

and

Cleanblend

, produce the most active whirlpool that drag down ingredients into spinning blades below. This creates not only faster and effective blending, also less splashing residuals to fussy cleanup later.

Wide Jar

Extra wide, square jars, like

Blendtec

, create strong 'spinning-around' vortex effect that is excellent for hard ingredient pulverizing and ice crushing. However, they also make tons of splashing and not very suit for delicate work, such as making mayonnaise.



Storage. Normally, the standard height between the kitchen countertop to the cabinets is 18 inches or less. This makes some tall blenders, such as Vitamix 5200 at 20.5" tall, not fit your space. Check your space before buying.


Warranty. Pick ones that carry a good warranty, minimum 2 years for standard-use models and 5 years for commercial/high-end models.
Best High-Performance Blender
High performance blenders are expensive, at least $200, as leveling for finest quality results like restaurant kitchens do. Yet, if silky-smooth texture blending is to expect, these machines are worth the investment. Two of the big players in this market: Vitamix and Blendtec, are also our two top picks. For our thoughts on other high-end models, see full market review below.




The Winner:

Vitamix 5200




| | |
| --- | --- |
| The Winner | |

Performance
10

Quality
10

Ease of Use
10

Appearance
9

Value
10

OVERALL RATING


This is a perfect combination of decent performance, durability, and value in the market. You'll got a trustworthy powerful and reliable machine that can make a velvet kale smoothie or hot puree in a few minutes, highly recommended by

many

most experts out there, includes America's Test Kitchen and Consumer Reports.

The performance is like a magic. The Vitamix 5200 is a real heavy-duty blender that can make quick and restaurant-quality results. This is the blender that we highly recommend for serious home chefs or people who want a die-hard US-made machine that will surely worth your investment for 7-year warranty, which can be extended to 10-Year for $75.

Comparing with other rivals at around 1,500 watts, like Blendtec or Breville, the Vitamix 5200 has lower peak horsepower at 1,360 watts. However, it performs quite the same level---we mean, some tasks are slightly worse or slower, but not far behind. Above from pleasingly silky-smooth purees and smoothies, it's superb for dry grinding. With a good-ergonomic tamper and tall-narrow jar design, Vitamix is ideal for pulverize hard seeds, grains, or extra-thick materials (such as peanut butter or baby foods) as yielding consistency texture in easiest way than others.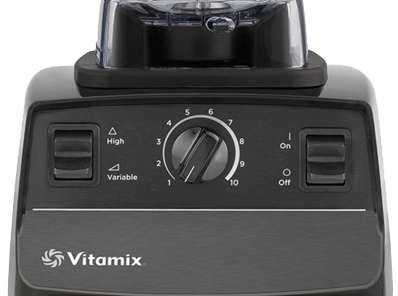 The control is straightforward. The 5200 comes with fully analog, no pre-set modes. This makes great for skilled people by allowing to fully manage perfect vortex and speed than intuitive fixed settings. However, if you're 'press-it-and-leave-it' persons, this may not be sweet as it requires to find the 'sweet spots' to make perfectly work, like DSLR cameras. Still, it's not that hard to use. We also like the easy-to-pour spout, which make no spill outs and auto shut-off feature, a rare feature which is very gravely helpful for preventing burn after hard-time blending.

Apart from expensive price as a high-end stuff and very industrial look, the big downside is the 5200 is 20.5" tall with 10 pounds that makes hard to store, fails for keeping under standard cabinet spaces. If you're sticking with Vitamix and have the same issue, consider another Classic Series 5300 or G-Series like 750 model instead.

Overall, Vitamix has been widely recognized as a benchmark of high-performance blender for years long. The 5200 is known as a Standard model---no bells and whistles, just an impressively powerful and reliable blender----for home chefs or serious eaters who expect for the same quality as restaurants and bars. The price is high, but the quality is real.




Runner's Up:

Blendtec Designer 625




| | |
| --- | --- |
| Runner's Up | |

Performance
10

Quality
9

Ease of Use
10

Appearance
10

Value
10

OVERALL RATING


All we can say is: this Blendtec is a hair runner up. In fact, Blendtec is a decent powerful blender in the market that can create pleasing effects like Vitamix, or might be better in some tasks. This commercial-powered machine also carry 8-year warranty.

The performance is restaurant quality. This workhorse blender can quickly serve silky-smooth smoothies, even for fibred-intense ingredients easily. From experimental tests, both Vitamix 5200 and Blendtec are very comparable in smoothies, purees, and ice creams. However, for 1,625 watts, 3.5 peak horsepower with 29,000 rpm, Blendtec is proficient in ice crushing and frozen ingredients blending, remarkably better than rivals in the same level, even for our winner. So, this is a best machine for pulverizing frozen fruit smoothies or making bar-quality cocktails as the results are luxuriously snowy texture.

Blendtec comes quite unique but nice design. It has wide squared-jar with two sturdy dull blades that makes easy cleaning, and safe for your fingers. Unlike Total Blender model, the 625 model comes with WildSide jar, which claims for better large, cold recipes and dough. Still, we feel unnoticeably different for this improvement. Also, we absolutely love dark-colored scales on the jar that making much easier to notice. Plus, the 15.5" tall, with sleek look, makes it perfectly sit under any the cabinets, as well as ready to show.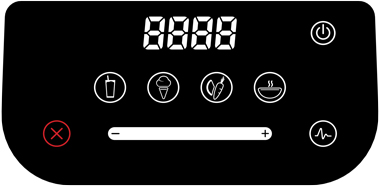 We prefer this Designer 625 than Total Blender as it comes with illuminated touch-screen interface. Not because we like digital stuffs, but it makes faster to adjust the speed as you just slide to freely control. However, as for safety reason, we prefer the analog on/off switch of Total Blender than the touchscreen icon.

Unlike Vitamix, this model has 4 most-used pre-set cycles, 6 speeds and a pulse, which are very useful for 'touch and go' people who want like-a-chef results instantly. Overall, Blendtec is unbeatable for blending quality, practicality of use and innovative design.

Still, there're some flaws that can't be overlooked. Blendtec is incapable for hard or dry grinding. Since having no tamper to help prevent foods to be scraped down, it makes struggling and taking much more time to get fine result. This also happen with low speed blending.




Best General Use Blender
If you plan to use your blender just a few times a week, or need a useful tool to fulfill general culinary tasks that don't expect for restaurant quality, a nice home-edition blender is enough to satisfy your desire.




The Winner:

KitchenAid 5-Speed Diamond




| | |
| --- | --- |
| The Winner | |

Performance
9

Quality
9

Ease of Use
10

Appearance
10

Value
9

OVERALL RATING


If what you're looking for is a nice, capable blender that can handle your everyday tasks, includes acceptably smooth smoothie, in affordable budget, the KitchenAid 5-Speed Diamond is recommended. With 60-oz capacity, impressive performance and beautiful modern-vintage look, this around $100 blender reasonably wins.

The blending quality is nice. Surprisingly, this 550-watt blender performs remarkably better than many 1,000-watt ranges. According to Cnet.com experimental tests by Katie Pilkington, "It performed on par with, and in some cases better than, blenders costing more than $199. It handled our tests with ease and earned our vote as an excellent blender, especially when you consider the price", she said.

KitchenAid Diamond very suits for fulfil your everyday tasks---not comparable to those performance machines, like Vitamix, but nicely does everything in upper-average level. It successfully makes smoothies and crushing ices, with chunkier texture (leaving berry seeds and flaky ice) and slower. While it can handle dedicated tasks, like whipped cream or cheese slicing, as well as dry grinding, impressively and quickly.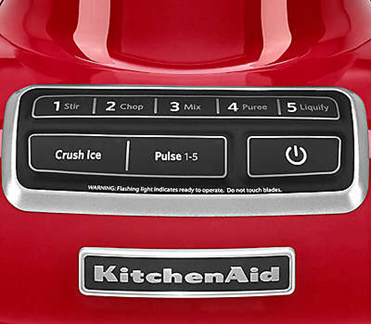 The design is beautiful and user-friendly. We appreciate the simple-but-work interface. We bet, even your Grandma can use this machine easily because of the straightforward control. You can select speed from 1 to 5, which are frequent duties in a home blender: stir, chop, mix, puree and liquefy, as well as extra buttons for crushing ice, pulse, and power.

Another big gain, it provides quite roomy 60-oz capacity for suiting normal-sized families. Besides, like other KitchenAid products, it has a variety of color ranges that ensures to fit any decorations. Plus, this compact (16" tall) blender make easy store.

In a nutshell, this KitchenAid Diamond is a real exceed-the-expectation product that highly recommended by many experts, such as Real Simple, The Sweet Home and Cook's Illustrated (previous report). The blending ability and durability can't be compare to the high-end products, but this vintage-look machine beautifully performs everyday duties for home-edition quality, and costs very reasonable price, under $150, with 5-year limited warranty.




Runner's Up:

Ninja Professional BL610




| | |
| --- | --- |
| Runner's Up | |

Performance
8

Quality
8

Ease of Use
9

Appearance
9

Value
10

OVERALL RATING


The Ninja Professional is a very suit for beginners and budget-concerned people who want a nice blender for making everyday smoothies or icy beverages. With 1,100-watt motor and big 72-oz capacity and food processor blade design, this blender proves the worth for its price, at around $100.

Blending ability is outstanding for this price range. With moderate horsepower and irregular blade design, a central shaft bearing 3 sets of sharp food processor blades and tall squared jar, the Ninja Professional makes good and chopping ingredients, ice crushing and smoothie blending. Though can't be expected for restaurant results as leaving crunchy ices and fibered leaves, it's good enough for pleasure home-made cocktails, smoothies, milk shakes and hummus. For other culinary tasks, such as making puree, salad dressing or nut grinding, it performs moderately fine as providing acceptable results.

We like that the blades can completely remove from the jar. This isn't only good for preventing stuck foods between the blades and bottom of the jar, but also your safety since the blades are extremely sharp and potentially dangerous. However, for a peace of mind, most parts are dishwasher-safe, includes these razors.

The assembly feels safe but a bit tricky. It's good that the Ninja Professional won't work unless fully assembled for safety reason, but some locking mechanisms (such as lid locking position) makes a bit difficult to use. The control panel is plainly simple, with only 3 speeds and a pulse, with a power button. The material quality feels acceptably sturdy. This sleek-design blender has 1-year warranty.

The previous Ninja Professional model (NJ600) was recommended by Consumer Reports as a best budget product, as well as Cook's Illustrated (Oct, 2012 issue) as Recommended with Reservation. Overall, this blender is an outstanding budget-buying choice.



Market Reviews
The prices mentioned are estimated retail prices at exact period and are subject to change. We list suggested sources for recommended products as a convenience to our readers but do not endorse specific retailers.



(1) High-Performance Blenders (High-End)

For high-powered range, Vitamix is the biggest player in place of dominating both store shelves and restaurant countertops with various reliably high-performance results.

Apart from the winner the 5200 model ($449), Vitamix 5300 ($529), another standard model, is claimed as an updated version of the 5200, which is quite clear that the big improvement is lower-profile jar but same 64-oz capacity. Though having 2.2 higher peak horsepower (hp) and a pulse feature instead of making it manually, other specs and blending result come insignificantly different to 5200.

Still, if you want even more upgrading quality, Vitamix 'Next Generation or G-Series' products, such as Vitamix Pro 750 and Pro 300, should meet the higher expectations. Comparing to 'Standard/Classic or C-Series' models, like the 5200 and 5300, the G-Series models has several design improvements. More the beautiful color options and slightly round-edges, they come with better airflow motor for faster and better handling hard or long-period blending, which very suit for restaurants and frequent tasks.

Moreover, they have wider jars and longer blades (4" blades instead of 3" of Classic Series) that makes better chopping effect with less need of the tamper as ingredients fall into blade easily. The G-Series comes with low-profile, 17.5" tall, which fit most storages.

G-series have 2.2 peak hp. This leave an important question: why the quality of blending isn't different from much higher-powered motors (like 3 hp of Blendtec) or even better in many tasks. Moreover, Vitamix have been rarely reported about burn motors or melted materials. This may enough to proof that horsepower is not everything as efficiency of motor is the big key, as well as proper jar and blade design.



The question is: Are these expensive professional series worth the price than standard Vitamix models?

From our experiences, the 5200S, a standard model, like, can provide likely the same results in most tasks, but slower. While the Pro 750, G-Series, is a real workhorse because can handle long working or big batches of blending, which are closed to restaurant need--- still not the commercial model but by far sturdy than other home-edition machines and used by many chefs.

So, if you run a small café or, somehow, need reliable finest quality for intense usage frequently, they're worth. Noticeably, the G-Series yield better and faster result for ice crushing or frozen fruit blending. Also, many most of G-Series has pre-set programs. For ones who like silky-smooth smoothies once or twice doses a day, standard models should be pleasingly enough. Inclusive, it depends on your preference.



Vitamix 750 ($599) is probably the most popular model of G-Series. Apart from feeling premium, this workhorse blender has 5 pre-sets: smoothies, frozen desserts, purées, hot soups, and self-washing, very convenient to set and go. With 2.2 peak hp and efficient motor cooling, the blending quality is exceptional, making 'like-a-pro' results faster and easier, as well as can handle tasks longer period than the standard models. Also, as quite heavy, this low-profile blender has less 'walk' around the counter even for intense blending. It's highly-recommended if need to upgrade your blender.

While the 300 ($559) offers the same features but no pre-set programs. However, for the price, we don't think it's better value than the 750. Moreover, if you're budget-tight ones but need Vitamix performance, a reconditioned or certified refurbished model may be a good option.

The 780 ($719), a newly-released blender, comes with touchpad interface but same function as the 750, reminds a lot about Blendtec Designer 625 in double price tag.

We skipped reviewing commercial-grade models, such as Blending Station Series, Bar Boss, Drink Machine and Quiet One, which are real commercial beverage blenders. Most of these machines have 3 peak hp, 48-oz capacity and noise-prevented housing as designed for café or beverage brewing business. For more than $1,000, they may not worth the investment for regular home usage, unless you run a coffee shop.

Blendtec, as a great competitor of Vitamix, gains popularity from users for powerful motor, easy to use, study materials and handsome look.

If our pick the Designer 625 ($499) is such a harsh price, Blendtec Total Blender ($279), the former model, is a wise alternative. Without digital illuminating screen, you'll get touchpad control and the same 3-peak hp with pre-set programs and 10 speeds, granting nearly the same blending quality as the expensive one. Also, you can buy WildSide Jar for replace the FourSide Jar later, if need.

Perhaps Blendtec Pro 800 with WildSide Jar ($1,099) is the most powerful and quietest blender available for home-edition purposes, which comes very close to commercial models. With plastic housing and 3.8 peak hp like commercial models (such as Stealth or Connoisseur), it elegantly stands out for the top-of-the-line product since can serve café-edition smoothies, ice cream and nut butter perfectly. The blending performance is real but the price is obviously expensive, even carries 10-year warranty.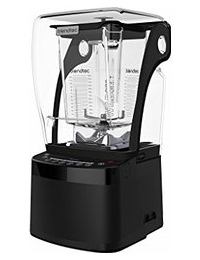 Whereas Blendtec Stealth 875, Connoisseur 825 and Chef 775, the authentic commercial machines for beverage industries, were cut off as the same reason as Vitamix's. They offer titan motor of 3.8-peak hp, durable and quiet (as having housing for lower the noise) than home-edition models. Again, for $1,000++, this is quite a huge investment for amateurs and home cooks.

Breville Boss ($399), another Editor's favorite, gains lots of compliments from many chefs, includes Serious Eats and The Kitchn. With 2-peak hp, 1,500 watts, it can beautifully serve smoothies and anything a nice high-performance blender can. Honestly, the performance seems quite a bit lower than Vitamix and Blendtec since leaving some berry seeds and stopping (or sometimes shutting down) in the middle of harsh blending. Still, it has finest pre-set functions and user-friendly LCD control panel, which can allow for truly set and forget.

Also, like other Breville products, the materials and assemble are pleasingly solid. The auto-clean mode is practically useful. If you're looking for a sturdy, low-profile and easy-to-use high-performance blender for mostly smoothies and puree duties (not hard or thick ingredient grinding), Breville Boss is no-regret choice in quite less expensive than our winners.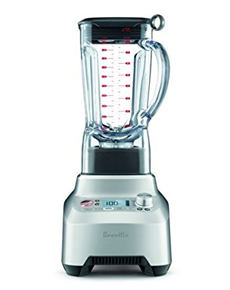 KitchenAid Pro Line with Thermal Control Jar ($550 to $700, depending on color option), claimed as a most powerful blender home cooks can buy, excluding Blendtec Pro 800 the 3.8 hp, comes with 3.5-peak hp with 56-oz jar. The performance is as good as finest-quality ones like Vitamix 750 (2.2 hp) or Blendtec 725 (3.4 hp), but come with wide-shaped jar like Blendtec. We love the foolproof control panel: 3 preset programs, 11 speeds, a pulse and self-clean mode, and a tamper, all settings come with simple presses and solid a knob. The whole construction feels hefty with metal base, which comes in pretty vintage-look as KitchenAid signature.

However, with nearly 21 pounds, this blender is heavy (though this is our preference as having more stable balance during hard pulverizing) and may not sweet for small people or those who plan to keep in the cabinet. Still, if you can afford, this is a remarkable blender as packing performance, durability, ease of use and design together,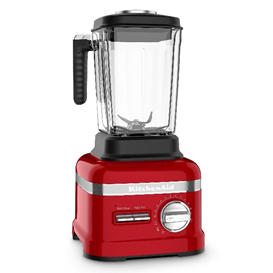 Cuisinart CBT-2000 Hurricane Pro ($399) boasts for amazingly big 3.5-peak hp motor that can be maximum to 30,000 rpm by 'Turbo Boost' mode, as well as advertised for commercial grade. The blending ability is surpassing, as well as material quality for this price. We also like the auto clean feature and beautiful intuitive control panel, which comes with 3 pre-set modes: smoothie, ice crush and soup, and a pulse. However, aside from pre-programs, this 64-oz blender makes somewhat awkward to use, not that one-touch machine, because you'll have to learn how to proper set. Moreover, without a tamper, it makes difficult or sometimes fail for working with thick pastes blending or dry grinding.

Waring Commercial Xtreme MX1000XT ($299 for plastic jar/ $600 for stainless steel jar), as an oldest manufacturer in this market, comes with exciting 3.5-peak hp motor due to commercial purpose and simplest analog control: Hi, Low and a pulse. This blender does the great job for most duties, includes hard veggies and ice crushing. Since without a tamper with big motor, it reminds a lot to Blendtec. Still, at the same price, we prefer Blendtec to Xtreme as coming flexible speed control and pre-set programs, more durable materials.


(2) High-Performance Blenders (Mid-Price)
There're some mid-range high-powered players that can come close to Vitamix in more reachable budget. These products are attractive price and good for beginners. However, we won't lie: you get what you pay---the durability is still far from those pricier ones.

Cleanblend 3HP ($199) is look much like Vitamix 5200's sibling as having nearly the same design and analog interface. However, this new face comes with bigger-than-Vitamix, 1,800-watt, 3 hp motor that can easily make luxurious-feel smoothies and cocktails. It performs better than Oster Versa since barely left berry seeds and flaky ices. However, as for the price, the quality of some materials is issued, such as cheap plastic jar that is easy scratching. Moreover, since the jar bottom isn't removable, it easily gets rusty and leaking brown parts, which is required for changing container earlier. Some users experienced burnt motor, as well. Still, this blender is a great choice for beginners or budget seekers since offering striking performance than its price tag, with 5-year warranty, blowing away rivals in the same range.

Oster Versa Pro ($199), as highly recommended from The Sweet Home and comes with strikingly powerful 1,400-watt motor and 3 useful pre-set modes (soup, dip and smoothies). These makes it proficient for velvety pulverizing like those pricier models since blending hard veggies stems, kale leaves and fruits nicely. Still, berry blending is capable but leaving a few berry seeds, like Breville Boss. But, there're lots of complaints about durability. Though having 7-year warranty, many users claimed that Oster can be last within a year, or just a few months, of uses and seems not tolerant for heavy duties, such as frozen fruits blending or dry grinding. As for these, burnt or overheat motor is usually found. Unless you plan to use a few times a week, you may be happy for velvety smoothies for affordable price with this noisy blender.

Nutri Ninja ($199 to $229, depending on accessory options), 1,500-watt, 2.5 hp motor and 72-oz jar, is a good match for those need a jet-set functions. Honestly, we quite appreciate the ideas of Ninja as it fulfills the needs of home users who live jet-set lifestyles. Above from decent power that offers impressive smoothie and ice crushing, it comes with various sizes of container, from big 72-oz to a cup of 18-oz jar . Say, this versatile machine offer both a powerful personal and countertop blender. The food processor-liked blades are also good for preparing food. And, with 18" height, it can be easily to stack, though looks much bulky.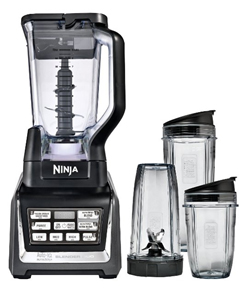 Honestly, we prefer the Nutri than Ninja Ultima ($199 to $229, depending on accessory options), the nearly-the-same model but has traditional analog control. The Auto-iQ feature, pre-set programs, is surprisingly effective and makes very convenient. Overall, these blenders are good alternatives for beginners or budget seekers for having quality smoothies conveniently.

Panasonic MX-ZX1800 ($299), engaging stunning look and medium-high performance, offers 1,200 watts, 19,000 rpm motor and diecast aluminum base. The control setting feels user-friendly and sleek; it comes with a knob to control 10 speeds and 6 pre-programs touchscreen icons. We really like their pre-sets that can really deliver the ideal results. With powerful motor and saw-like blades, it impressively handles smoothies, puree, and standard blending, but not as good for dry grinding. However, apart from tall 18" jar, big downside is about poor customer service and their warranty.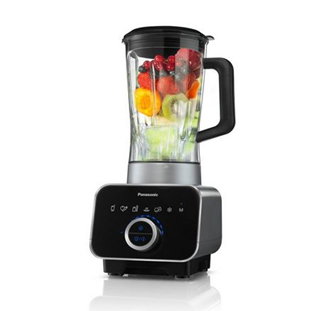 (3) Regular-Use Blenders
Breville Hemisphere ($199) is highly recommended by Cook's Illustrated for moderately powerful 750-watt motor that excels at almost tasks they tested (such as crushing ice, kale blending, fruit smoothie, pesto, soup, and frozen margaritas) in less than half price of a high-end one. The control setting is beautiful and user-friendly with 5 speeds, ice crushing, smoothie and a pulse functions. However, beyond the durability issue and burnt plastic pieces, which are typically found in inexpensive models , the Hemisphere was found unsuccessful for making frozen fruits and stuck ingredients under the blades.




---
Footnotes
| | |
| --- | --- |
| (1) | According from Blendtec, there're 3 types of jar: a) FourSide, the original one used for Total Blender, b) WildSide, a wide base and narrow five angles one, for the Designer series and Signature series, and c) Twister Jar, a new improved one for grinding hard and thick ingredients, comes with Spoonula (a tamper-like spatula) for pushing down when spinning. However, all Blendtec blenders can fit any of their jars. That's mean you can change any jars to fit each job. For example, with the Designer 625 model, you may choose WildSide jar for making smoothies, while switch to Twister Jar for making peanut butter. |
| (2) | Retail price at Oct 2016. |
| (3) | Cook's Illustrated suggested KitchenAid 5-Speed Diamond as the Best Buy recommended product in 2009 issue but withdrew it from their list after found some durability issues from readers and reviewers. Most problems occurred with leaked pieces in the jar and broke down within a year or months of regular uses. However, after researching user reviews, we've found that the durability issue has been a major issue of any budget product, mostly under $200. Moreover, other products in the same range, with inferior blending performance, have been reported about the same issue or worse. As the result, we still recommend this blender as a best regular blender for home uses. |
| (4) | Sizes of jar depends on the accessory options. Check the model before buying. |
*Approximated value for comparing.